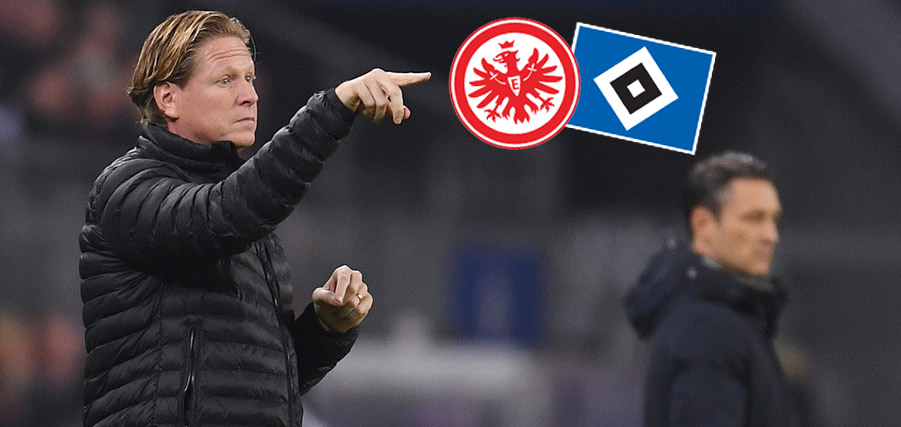 Pre match report
17.03.17
Show the new side
After winning their last two home games, the Rothosen are more than keen to repeat that success on their travels. Nobody is under any illusions as to hope tough the game in Frankfurt on Saturday evening will be. They are tough and unpredictable and need the points as badly as HSV.
The first meeting between the two sides was one sided with Frankfurt winni9ng 3-0 at the Volksparkstadion in Hamburg on Bundesliga matchday 8. That win signalled the start of an impressive run of form for Eintracht, while for HSV it was yet another body blow because the previous week they had fought hard to draw 0-0 at Borussia Mönchengladbach. HSV coach Markus Gisdol told the media at the pre-match press conference in Hamburg: "That game hurt but at the same time we learned a lot and were able to clinically analyse what was wrong. Now both sides face the second meeting at the Commerzbank Arena on Saturday evening (18.03.17, 6.30 PM).
HSV may still be in sixteenth place in the Bundesliga table which would mean yet another relegation play off nail-biter at the end of the season and Frankfurt are still in the European places but the wind direction has somewhat changed. Gisdol: "These tough times have brought many changes. I think our face has changed 100%." Seven straight home league wins underline that comment. The last two of those wins were against Hertha BSC (1-0) and Gladbach (2-1) – two teams from the upper reaches of the Bundesliga table. Since the winter break only Bayern (17) and Gladbach (15) have gathered more points that the Rothosen (13, with Dortmund).
The law of runs
Eintracht Frankfurt on the other hand are having a tough time of things right now. The team under Croatian legend and former HSV man Nico Kovac have not taken a point from their last five games. Eintracht may be still handily placed in 6th place but the competition is catching up all the time, which is why only a win over Hamburg will do on matchday 25. Kovac: "We know that after five straight defeats we have to start taking points again especially at home. That would give us our confidence back." His team have managed to get somewhat back on track in their last seven games as far as performance levels go. Kovac: "The was we are playing indicates that we are on the right track and the law of runs says that every run has to end sometime."
The Rothosen of course have other ideas and start a new run away from home of their own. HSV have not beaten Frankfurt in any of the last 9 games between the two sides. With five wins and four draws HSV is one of Frankfurt's favourite teams to play so to speak. Gisdol knows: "Taking something home from Frankfurt would be a great thing for us. I would be in the wrong job if I said that a point away from home in the Bundesliga is not a good result." The coach is not setting his sights too high though. He added: "We know that Frankfurt are a good side who have shown stability over the whole season. They are also almost at full strength and I warn anyone about taking them lightly because of recent results."
Müller back in the squad
Kovac welcomes back Bastian Oczipka from suspension but the game comes too early for Jesus Vallejo who has recovered from a torn hamstring. There is a question mark hanging over Japanese international Makoto Hasebe after he gashed a shin and picked up bruising to a knee in Munich last time out. That could open the door to a rare start for Marco Fabian, who got a few game minutes in last time out after a seven week long absence through injury.
HSV's massive contingent of travelling fans will be delighted to know that top scorer Nicolai Müller has made the trip after battling all week with flu. It is not known whether he will start the game or be on the bench at first. Gisdol is without central defender Mergim Mavraj but he is the only casualty. HSV club boss Heribert Bruchhagen told HSV.de in an interview this week speaking about recent performances in Leipzig and Munich: "Our away form is like a lucky bag. You never quite know what to expect." Fot Bruchhagen Saturday's encounter is a special one. He was board chairman at Frankfurt for 13 years and still has many friends and associates there. He is not the only one hoping that HSV can show a new side of them away from home.
Possible line-ups:
HSV (from): Adler, Mathenia, Diekmeier, Djourou, Douglas, Ekdal, Gregoritsch, Holtby, Hunt, Jung, Kostic, Lasogga, Müller, Ostrzolek, Papadopoulos, Sakai, Walace, Wood
Possible Eintracht Frankfurt live up: Hradecky - Chandler, Abraham, Hector, Oczipka - Mascarell, Hasebe - D. Blum, Fabian, Rebic – Hrgota
Referee: Benjamin Cortus (Röthenbach a. d. Pegnitz)