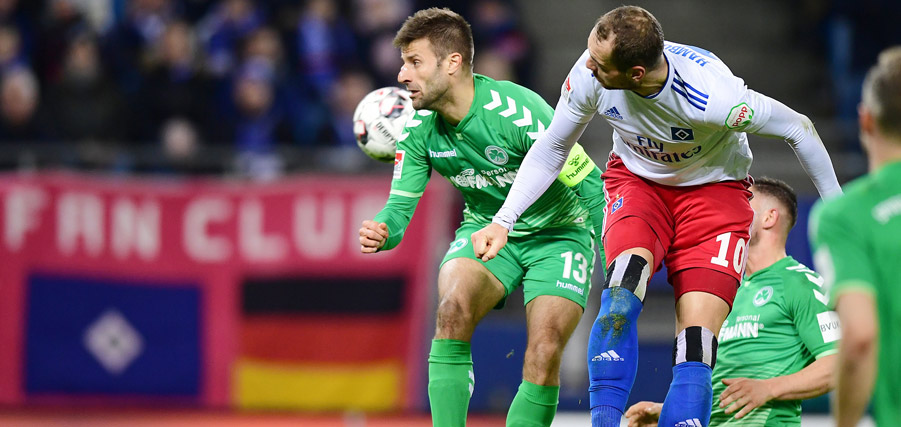 Post match reaction
04.03.19
"Sometimes you have to win ugly"
ON MONDAY NIGHT OF MATCHDAY 24, HSV FAILED TO IMPRESS WITH THEIR PERFORMANCE AT HOME TO GREUTHER FÜRTH, BUT RECORDED A NARROW 1-0 WIN NONETHELESS. THE ROTHOSEN HAVE HAD THEIR SAY ON THE MATCH:
Aaron Hunt was the man who redeemed his side against SpVgg Greuther Fürth with the winning goal in the 85th minute. In the 84 minutes preceding his goal, the HSV captain and his teammates struggled against the aggressive visitors. After a decent display in the opening stages of the game, the Rothosen lost control completely and only regained it following a questionable sending off for Fürth's Julian Green. Understandably, the players were critical in their post-match reaction, unanimously agreeing that a vast improvement is needed for the imminent Hamburg Derby. HSV.de bring you the players' quotes.
Pierre-Michel Lasogga: I always believed we would score. Sometimes you have to win ugly. We had our chances in the first half, but unfortunately there was always a foot in the way or a good save. After that we lost control. With the one-man advantage later on we took advantage well and won deservedly in the end. Today was a real hard-fought victory. Obviously we're looking forward to the derby – they're special games here in Hamburg, so we'll enjoy it. The atmosphere will be great. We're excited and fully focused on the game.
Tom Mickel: That's the kind of story that football writes. I didn't have much time to think before the game, the lads just told me to do my thing, which gave me more assurance. I wanted to actively contribute to the team's big target. We kept a clean sheet and won the game, so it went well in that regard – it gives me a good feeling. Celebrating in front of the HSV fans is something I've always dreamed of, but I do hope Polle can play in the derby. He's the number one, so I'll continue to support him. In case he isn't fit, I'll step in and do my best again.
Aaron Hunt: We're pleased to have won the game, but that was a really poor performance from us. Our strengths, which actually set us apart from other teams, just didn't make it out onto the pitch today. We're too slow and timid at the moment, and the pressure on us is no excuse for this, we shouldn't talk about these things so much, but rather let our actions speak. We need to win back our conviction, but winning a game despite not being the better team is all part of the effort.
Hannes Wolf: We started well and had some good spells early on, but after that we rather spectacularly lost our grip on the game, and I don't wish to make any excuses for the team here. Today, a sending off worked in our favour, something we didn't have in other games. Luckily, we were able to get the deciding goal, but the performance was a long way off what it needed to be today and we can't let that happen again. We have an important game for the city ahead of us and we're well aware of the meaning behind this fixture. We definitely need to play better football and we've got a few days to work on our game.
Stefan Leitl: HSV pressed early, as expected and we had trouble getting a foothold in the game, we weren't bold enough in our own pressing game. Then the game was a lot more even, before we eventually took control. Then the incident, which is extremely gutting for us in a number of ways: Firstly, Green was offside, so it should never have come to the challenge in the box. So it wasn't a penalty, but it shouldn't have been a second yellow either. This allowed HSV to score the decisive goal at the end. I can only praise my team though, we are on the right track and would have deserved a point here today.