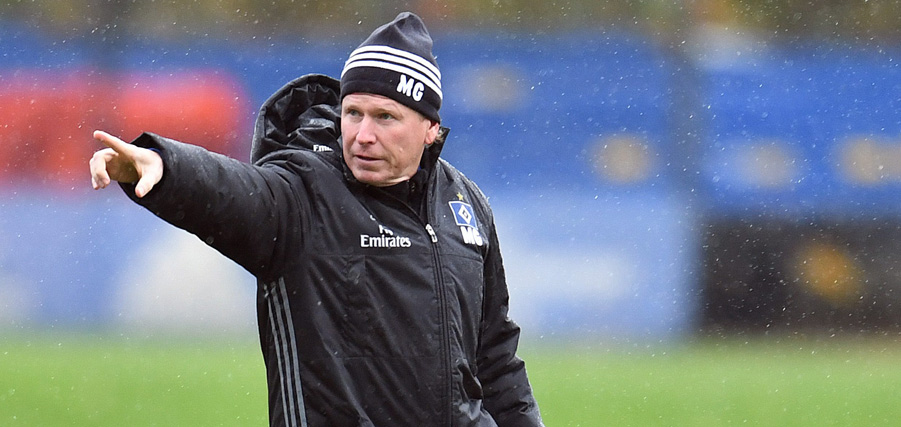 Squad report back for training
HSV players resumed first team training today: Mavraj and four youngsters were on board, while Spahic has been released and Cleber has headed home to his native Brazil to join former Pele club FC Santos.
This morning (03.01.17) at 8 AM, HSV coach Markus Gisdol welcomed the players back to training at the Volksparkstadion following the Christmas break. As usual, various tests on individual players were undertaken to assess fitness levels as preparation for the second half of the season which begins for the Rothosen with a Bundesliga away trip to Niedersachsen side VfL Wolfsburg on January 21. Gisdol spoke to his charges for a short time during which new club boss Heribert Bruchhagen was introduced to everyone.
As had been announced at the end of last year, the 18-man squad looked different: "Our position in the table is a serious matter so it is vital that we go into the second half of the season totally focused", said Bruchhagen. Mergim Mavraj – an experienced defender joined HSV from Cologne during this winter break. He will take the number three shirt vacated by Cleber, who has joined Brazilian giants FC Santos in his homeland.
Cleber gone, Spahic has contract cancelled
Emir Spahic no longer features in the future plans of HSV and has left Hamburg by mutual consent. Gisdol: "Over recent weeks we have been driving a process of change within the squad, including the release of Emir Spahic. It was the best thing for both sides for him to leave us. "
Club boss Bruchhagen offered 36 year old Spahic a cancellation of his contract. HSV are not done in the transfer market yet: "But we will not be giving permanent updates on the situation. We are working on several fronts", revealed Bruchhagen.
The club is als oprepared to give their own youngsters a chance to shine with Oliver Oschkenat (23), Jonas Behounek (18), Vasilije Janjicic (18) and Fiete Arp (16) all training with the first team. The group will spend the whole preparation period with the big boys so to speak. They fly with the squad to the training camp in Dubai on Thursday.
Filip Kostic was missing this morning, undergoing individual training ordered by Gisdol. The winger will however rejoin the squad for the Dubai trip: "We have a big job ahead", knows the new board boss. The players will do the first training with the ball of the new year on Wednesday morning at the Volksparkstadion.