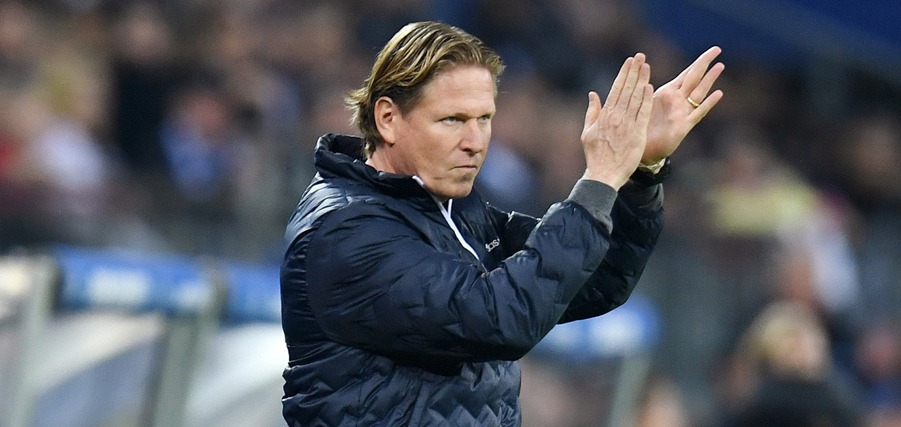 Post Match Report
02.12.17
Staying fully focused until the winter break
Hamburg drew 0-0 against SC Freiburg on Friday evening to earn an away point for the first time since August. Markus Gisdol urges his team to remain fully focused until the winter break.
The match on Friday evening between Hamburg and SC Freiburg certainly was not a pretty one to watch, however, the Rothosen managed to take an important point away from the tough battle to keep them out of the relegation zone. Hamburg would have been hoping for a better result after their 3-0 win against TSG Hoffenheim last week, but both the players and coaches were keen to focus on the positives after the full-time whistle. "It was a difficult match to watch," reflected goalkeeper Christian Mathenia. Head coach Markus Gisdol also had his say: "We have received a lot of praise for our performances from our opponents recently, but have struggled to score in most of our matches. That certainly wasn't our best away showing, but I cannot fault my players for their effort."
The 48-year old reiterated his satisfaction with the team's commitment in a press meeting on Sunday. "We knew it was going to be difficult playing against Freiburg who have been doing well at home. We fought well, but couldn't string the passes together to create chances. We are happy with the point."
HSV.de review the 0-0 draw against SC Freiburg, provide an update on the squad and preview the week ahead.
The game: The Rothosen started well and came close to taking the lead in the 19th minute through Aaron Hunt. Then, the hosts found their feet and began to create problems for Hamburg. SC Freiburg's positional play was excellent and the HSV defenders had to be alert to cut out their precise passes. Nils Petersen looked threatening in front of goal and kept Hamburg goalkeeper Christian Mathenia busy. "We did not defend well," admitted Gisdol during his chat with media. "We had no control over the game and gave their forward players too much room to create chances."
The Hamburg defence managed to hold off Freiburg for the 90 minutes, with Kyriakos Papadopoulos putting in some important tackles to keep his side in the game. "When you realise that you are not managing to create chances, it is important to make sure you keep things tight at the back," said Gisdol. Yoric Ravet did find the back of the net in the 55th minute, although his goal was ruled out for offside by referee Benjamin Brand. "There are a lot of areas where we need to improve," stated Gisdol. "However, I am pleased that we managed to pick up an important point away from home for the first time since August."
Personnel: Markus Gisdol was full of praise for Kyriakos Papadopoulos after his impressive defensive display kept his side in the game. "In the run-up to the match, we knew that we would have to give our all to keep a clean sheet. Papa is a very important defensive player in our squad. He plays with passion and is never afraid to put in an important tackle," praised Gisdol.
Gisdol made no changes upfront for the game against SC Freiburg. Bobby Wood and Fiete Arp started up top, but did not manage to convert chances like they did against TSG Hoffenheim. "We were not in control against Freiburg like we were against Hoffenheim," said Gisdol.
Albin Ekdal is expected to return from injury this week to bolster Gisdol's squad. "We are expecting him back in full team training by Tuesday."
The week ahead: Now it's time for the Rothosen to put Friday's result behind them as they prepare for their next two home games. The players had a day off after completing a recovery and recuperation session at the weekend. They will train individually on Monday before joining up on Tuesday to prepare for their meeting with VfL Wolfsburg on Sunday, 9th December. Then, the Rothosen will take on Eintracht Frankfurt at home on Tuesday, 12th December, before travelling to Mönchengladbach on Friday, 15th December for their last Bundesliga fixture of the calendar year.
"We have taken seven points from our last four league games," summarised Gisdol. "We have three matches left before the winter break and want to take as much from those as we can. We are fully focused and want to end the year on a high."