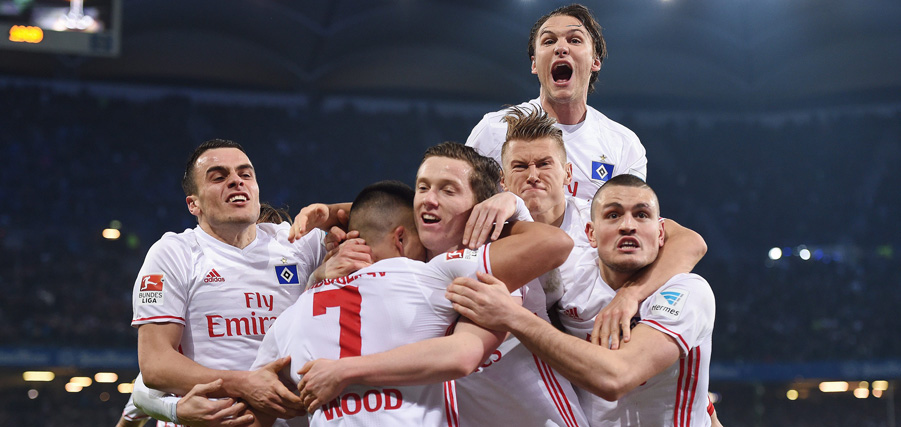 Post match reaction
12.03.17
"Team spirit is excellent"
HSV's matchday 24 2-1 home win over DFB Cup conquerers Borussia Mönchengladbach on Sunday evening was the first game this season that the Rothosen have won after falling a goal behind. HSV.de collected the following post-match reaction at the Volksparkstadion in Hamburg.
HSV battled back after going a goal down to crucially beat Gladbach 2-1. The game had it all – two offside goals, two world class Rene Adler saves and lots of action. The first comeback win of the season was down to a strong will to win and a team unity the like of which hasn't been evident for some time. As Gladbach's Christensen broke the deadlock on 23 minutes Hamburg heads did not drop, and that was key. The following was said in the mixed zone at the Volksparkstadion.
Gotoku Sakai: We win games when we work well as a team. The team spirit is excellent. Than must be our basis for coming games! We were unlucky to have two goals ruled out for offside, but we didn't give up and deserved our fight back. It was good that we maintained belief in ourselves after they scored first and that belief and tenacity has shone through in recent games.
Bobby Wood: We fought hard and got luck on our side today. My goal came from instinct. I got the ball the moment I stood up, I felt that I would be able to swivel past their men sliding in at me. If we can maintain this mood in the team we will collect the necessary points we need. Every player is doing well at the moment and they are a joy to play with. I feel good and feel the trust of my team mates.
Filip Kostic: Of course it is a wonderful feeling to score a goal and set a further one up in front of these amazing fans, but the win was the most important thing for the team. Times have been tough for me lately but I worked hard, fought on and am now back. That was the feeling I was trying to portray during my goal celebration. Our fans are just incredible and so important for us.
Rene Adler: Both offside goals were a bit annoying but to be fair the referee was right on both occasions. It is important to put such things behind us as soon as possible. We have got on with it regardless what has been raining in on our club from the outside. That focus is a current strength of ours. We live in the present and are focused on the job at hand. On reflection the saves I made were important and I was glad to be able to contribute in such a special way. The most important thing though is the way we function as a team.
Lewis Holtby: We put a lot of effort in and once again showed great character. Despite having those goals ruled out we stuck at it and forced our goals. We played a power play after the break and are well worth our win. We thought beforehand that if we could keep the pressure up they would tire at sometime after playing in Europe on Thursday night. Recent good home games have boosted team confidence. We have to remain focused on the present. We are now unbeaten in seven home games. That hasn't happened for a long time.
Jens Todt: Had Gladbach made it 2-0 the game could have turned out very differently, but a superb team performance saw us deservedly win the game. Things are very tight in our region of the table and it is not yet possible to know how many points are required to maintain top flight status. Apart from the game in Munich we have stabilised as a team. I have the feeling that we are approaching things in a calmer fashion and can build trust better and that the team know that our fans are right behind us until the final kick of the season. That of course feels great.
Markus Gisdol: We wanted to turn todays clash into a proper home game with our fans behind us to a man. We wanted to hurt them by playing a pressing game while being careful not to be caught on the break. We had good chances in the first half and scored from narrow offside positions on two occasions. You must remain wary playing a team like Gladbach. We tightened up better after the break allowing them rarely a sight of goal. I fel it was a matter of time before we scored again. I believe that we deserved our victory and that we played the best pressing game possibly since I've been here. The atmosphere was superb again today, our fans carry us on. It is all about give and take. The players are performing well especially at home and the team have gradually earned some stability. We must remain realistic and continue to collect points.
Dieter Hecking (Gladbach coach): Both teams began brightly and fought hard to take the lead in the first half. We could have scored again after taking the lead. Had we done so maybe the game would have ended differently. In the end it was a well deserved win for HSV. I do not blame my team. The lads left everything they had on the pitch. They tried to defend the point that a draw would have given them with a passion. Sadlky we didn't do it today and we must and do accept that fact. HSV deserved to win because of their strong second half performance. Congratulations to Markus Gisdol and his team.