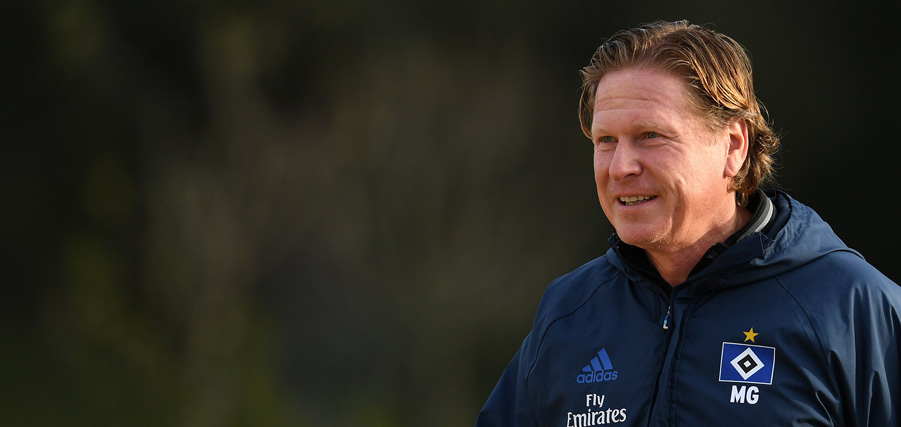 "The boys are clearly more aggressive and focused"
As the training camp in Jerez draws to a close, head coach Markus Gisdol gives his thoughts on how the camp has gone, the state of the squad and the second half of the season.
After six full days of training in Jerez de la Frontera with nine sessions and two friendlies, HSV flew back home on Monday morning. Markus Gisdol praised the work that his side had put in: "I was impressed with how hard-working the boys were in this short period of preparation. We put a lot on their plates and the boys were clearly aggressive and focused throughout." Now the 48-year-old's attention is turned to the first game back after the winter break against FC Augsburg on Saturday (kickoff 15:30 CET). The team will have Tuesday off in order to aid in their recovery. From Wednesday, training will begin again at the Volkspark in the final push before the Bundesliga kicks off again.
Before the flight back home, Markus Gisdol gave his thoughts on...
... the training camp: You obviously have to make full use of your time when you have so little of it. It was important for us that we had done as much as we could in terms of conditioning, because you don't get much of a chance to work on that sort of thing otherwise. That was our approach from a physical standpoint. In more technical footballing terms, the point of emphasis was switching from defense to attack. We had a lot of room to improve in that regard following on from the Hinrunde. Too often we misplayed passes or just played too much around the back. We scored a lot of goals last season from those types of situations and we have to be able to replicate that success.
... his impressions of the team: I was impressed with how hard-working the boys were in this short period of preparation. We put a lot on their plates and the boys were clearly aggressive and focused throughout. So I don't want to single out any player in particular. It's important that the team functions as a unit, and I was pleased with their performance in the camp as a whole.
... the draw against Freiburg: It was a sloppy game in the first half - you could see that all the players were running on tired legs. In the second half we were much better. In general, we tried to put the things we had been working on in training into practice. It was nice to see that happen in the second half especially.
... the state of the squad: Gideon Jung, Lewis Holtby and Albin Ekdal have picked up small injuries and so are doubtful for the Augsburg game. We'll have to see how they fare this week. Lewis did something to his knee in training and had a lot of pain the following day, which kept him out of the game against Freiburg. Albin injured his ankle in the first half and Gideon is suffering from the same problem after injuring it in training. I'm fairly confident in his case though, as the recovery time for a bruise isn't that extensive.
... the goalkeeping duel: It's hard to make a decision after only one week of training. Julian fared similarly yesterday to how Chris did in the first game. It was a game in which there wasn't much action in front of our goal, but you have to give Julian credit, he dealt with whatever he had to very well. I think it'll come down to a gut decision at the end of the week. I'm not there yet.
... Kyriakos Papadopoulos: The way that "Papa" played yesterday was very, very encouraging. He was imposing, dedicated and a real leader. He took on that role in the dressing room at half time too, when he spoke to individual players. I was very impressed. I made it clear to the boys at the end of the Hinrunde that they have to take responsibility for their performances. Yesterday was a very good example of that.
... the games to come: The first half of the season was frustrating for us all. To show time and time again that we prepare for games well and then to come away with only 15 points - that can't be who we are. We obviously want to be more effective in the Rückrunde and capitalise on the type of chances that we let slip in the Hinrunde. At the other end of the pitch, we've only conceded 25 goals at this point of the season compared to 37 last year. That's all well and good, but we have to be more clinical in front of goal out on the pitch and not just talk about doing it.
... the importance of playing at home: Home games are definitely something that we have to make the most of. We played against a lot of good teams at home in the Hinrunde, which made it hard for us to do so. This time round we will be playing a lot of teams at home that we simply have to beat in our fight to stay in the Bundesliga. They're real six-pointers!