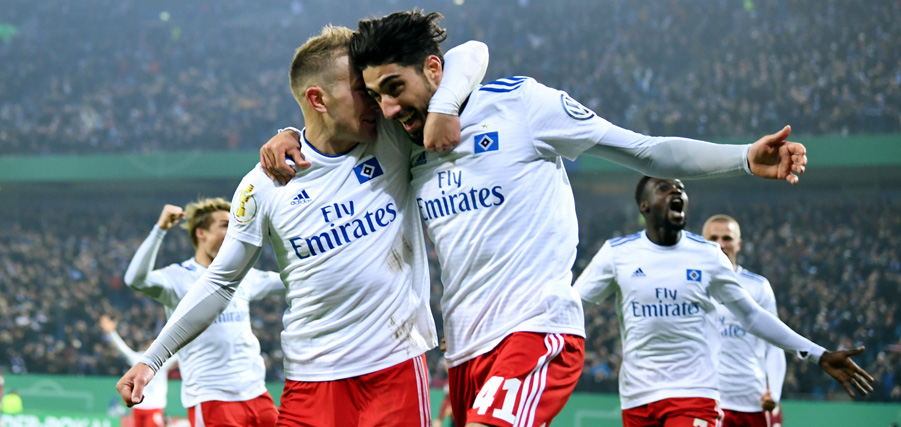 Post match reaction
05.02.19
"The fans carried us through"
Hamburger SV are deservedly through to the quarterfinals of the DFB-Pokal after a 1-0 win over 1. FC Nürnberg. Die Rothosen gave us their thoughts on a hard-fought match.
The official statistics from Tuesday night's DFB-Pokal last-16 tie showed 20 HSV shots to FCN's one, underlining the dominance from Hannes Wolf's side at the Volksparkstadion that isn't reflected in the scoreline. All it takes is for one of the shots to go in though, and that's just what happened in the 54th minute courtesy of Berkay Özcan. HSV.de gathered the reactions from a very happy Hamburg camp.
Berkay Özcan: We put in a great performance. We want to go as far as we can in the cup so we really put everything we had into it. It was my first start for over a year and unfortunately I had to go off with a cramp. It's a shame, as I was really in the groove after my goal. It was a special feeling to score, I can hardly describe it. You're not thinking in that moment, you're just experiencing it, seeing all the fans beaming and celebrating – it's amazing. To have finally started a game again, scored my first goal for HSV and then be named Man of the Match is an incredible story. I will give the award to my mother as a gift.
Fiete Arp: It was just the kind of performance you'd hope to see on a Tuesday night in the cup. We dug in deep and ultimately got the goal we needed. Nürnberg obviously have quality and got promoted for a reason, but we knew of their struggles in the Bundesliga and wanted to take advantage of that insecurity. We were able to implement our gameplan over the full 90 minutes. It was great to start a game again and then to stay on too, even if the last five or six minutes were really tough on the legs.
Lewis Holtby: It was a great cup fight. We were the dominant side, which is clear to see in the stats. We ought to have scored a second goal and killed the game, but to still see out the result with that confidence with such a young team really demonstrates mettle and quality. I take my hat off to the whole team. It's mad how many times Jatta was able to make those runs; he can give any opponent a hard time with his pace. Anything can happen in the cup, and with the right momentum and hopefully some home ties, we can go all the way to Berlin. However, there is still a long and tough road ahead.
Bakery Jatta: It was a great team performance and we deserved to win. I just kept on running and running, and tonight was a lot of fun. It's great to know that the fans are behind you – it gives you a real boost.
Ralf Becker: We showed an immense amount of passion and dedication. It was a deserved victory. Even though there was the odd hiccup along the way, it was a real spirited team performance. The fans carried us through. We had a very young team out on the pitch and they did a fantastic job. Our only hope for the quarter finals is to be drawn at home.
Hannes Wolf: We're obviously very happy with the performance and the result. We had a difficult day in Bielefeld on the weekend, so it was especially nice to see everything click today. We used the whole pitch well, we remained patient and we kept up the pressure. We had a lot of good moments in the final third and they kept on coming throughout the match. The fans and the team were really in-sync today. We're delighted to have played so well and secured our place in the next round.
Michael Köllner: Congrats to HSV, they deserved the win. We weren't able to kick on from our last couple of performances. We struggled to implement our gameplan, and credit has to go to Hamburg for that. It's a disappointing result for us.