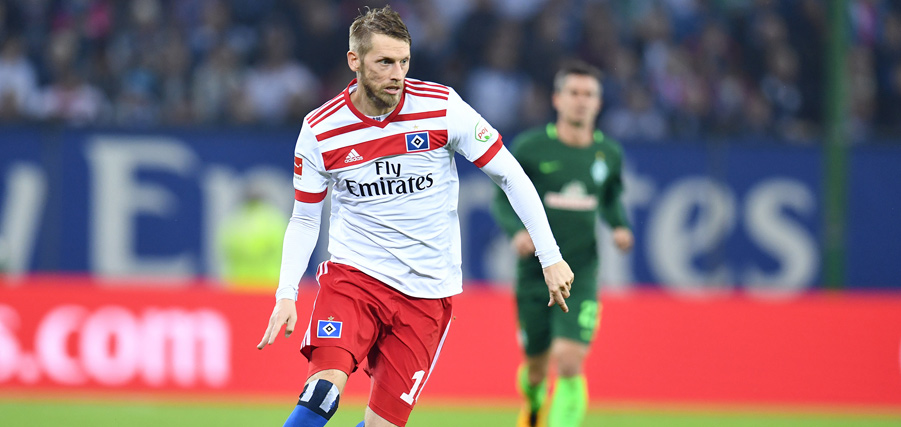 The Nordderby is coming at the right time
Aaron Hunt is returning to his former club on Saturday evening for the Nordderby. The weekend's Nordderby is a huge chance for HSV to pick up points in their fight against the drop.
It's Nordderby time. A clash which has electrified countless football fans in north Germany and around the world year on year. For one HSV player, it's a game which has an even more important meaning. Aaron Hunt has played for 13 years in a Werder Bremen shirt , making a total of 280 appearances for the first team. However, he is now fighting relegation with HSV. "A derby is always special. The game is a big chance for us to regain some momentum for the rest of the season," said an excited hunt ahead of the tie with his former side.
"The past doesn't make a difference"
As it stands, Werder Bremen lie two places and six points above HSV in the Bundesliga table. This is mainly down to Bremen being able to pick up seven points in their last four games whereas HSV have gone 10 games without a win. "The game is at an ideal time for us," said Hunt. He knows: "There's never a favourite in a derby." Even if Bremen's results of late has been better, form goes out the window in a Nordderby. "As soon as the whistle blows for kick-off, the past doesn't matter," said the 31-year-old.
However, there is still a lot of pressure on head coach Bernd Hollerbach's side. After another disappointing result versus Leverkusen, fans showed their discontent at the Volksparkstadion last weekend. "We understand where the fans are coming from," commented Hunt who distanced himself from the trouble and potential violence. "We're also aware that it's only a small percentage of the fans. It's on us as players to turn it around. We have to get results to lower the pressure on both us and the fans." Hunt isn't worried about the fans not getting behind the team this weekend. "Lots of fans will travel to the Nordderby to support and cheer us on. I hope and pray everything stays friendly in the stands. On the pitch, we're just trying to do our own thing."
The team's reponsibilty
On Saturday evening, the Rothosen want to put in an impressive team performance in a game of serious magnitude. When it comes to the frequent question about scoring goals, Hunt sees it as something the whole team has to improve on. "A lot of it is psychological but that's normal in our predicament. We have to play with freedom still as a team," stated Hunt. "Recently, we've improved in defence. That's not only down to the backline but the whole team. Now, we need to do the same thing going forwards."
Hunt himself wants to act upon his own words and be a key player in the coming weeks. There is one thing though Hunt wishes to further clarify: "Everyone is concerned with our current predicament. No one in the team is oblivious to our situation but it's far from over yet. We still have 11 games to go. We have to keep a cool head." The fact that the former Bremen player will face whistles from the home fans on Saturday night doesn't bother him as an experienced Bundesliga player. "I'm heading to Bremen with my team to win the game. Playing Werder is always special for me. It's all about getting three points on the board. We need to do that on Saturday."