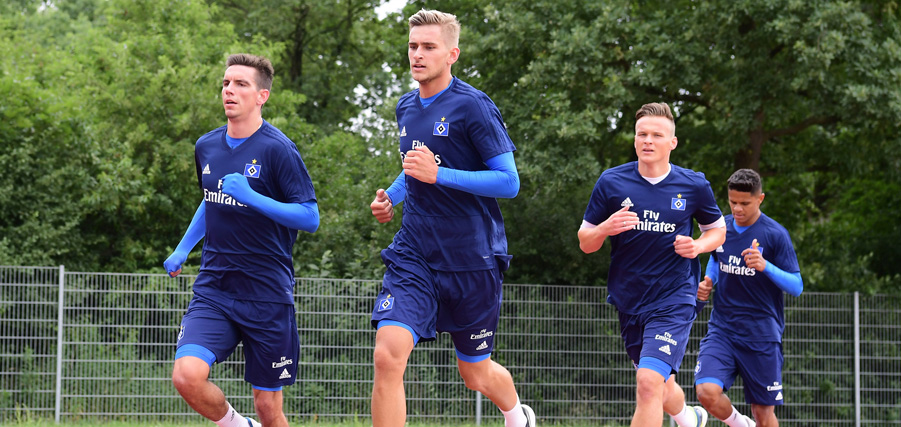 The Rothosen are back!
With their obligatory fitness test taking place on Thursday morning, the 2018/2019 season officially began for the Rothosen. The opening training session of the season will also take place on Saturday, before it's off to Glücksburg for the first training camp of the summer.
After a five-week break for the HSV first team, the 2018/2019 season officially got underway on Thursday morning with the obligatory fitness test. Head coach Christian Titz also invited his team to a communal breakfast within the Volksparkstadion earlier that morning. New faces like Christoph Moritz, David Bates and Manuel Wintzheimer joined up with old faces like the returning Pierre-Michel Lasogga (most recently on loan at Leeds United) and got to know each other. After the new adidas training gear was given out, the players then got down to business. The team bus drove them to SV Lurup's stadium to do some laps for their fitness test. The last few laps were tough, but they are crucial in gauging a player's current fitness levels.
International players in World Cup action, further tests to follow in this afternoon

The Rothosen, who were also joined by a few young talents from the academy like Marco Drawz and Jonas David, all got through this first session without a blemish. Filip Kostic, Albin Ekdal. Gotoku Sakai, Bobby Wood, Kyriakos Papadopoulos and Mergim Mavraj are all on international duty and therefore couldn't make it. While Kostic, Ekdal and Sakai are all in Russia to take part in the 2018 World Cup, Wood, Papa and Mavraj are all still on holiday due to recent international friendlies. The trio will join up with the rest of the squad for the first time on 2nd July and take part in some individual exercises.
After the fitness test had finished, the Rothosen all completed the so called FMS test (Functional Movement Screen test), which analyses the agility and stability of the players. Medical checks will then be undertaken this afternoon and on Friday (22nd June), before the first proper training session takes place on Saturday (23rd June). The session will be open to the fans and will start at 11:00 CEST. The team will then travel to Glücksburg for the first training camp of the summer (24th to 29th July). "We have decided to have a six and a half week preseason and will ease into things over the first ten days. The players haven't been playing football for a while now, so the risk of injury is high at the beginning," explains Christian Titz. "The main thing we want to do in the first training camp is bring the team closer together. We will also do a lot of one-one-one meetings and group work. My first impressions of the team this morning showed that all of the players are fit and raring to go for the upcoming season."