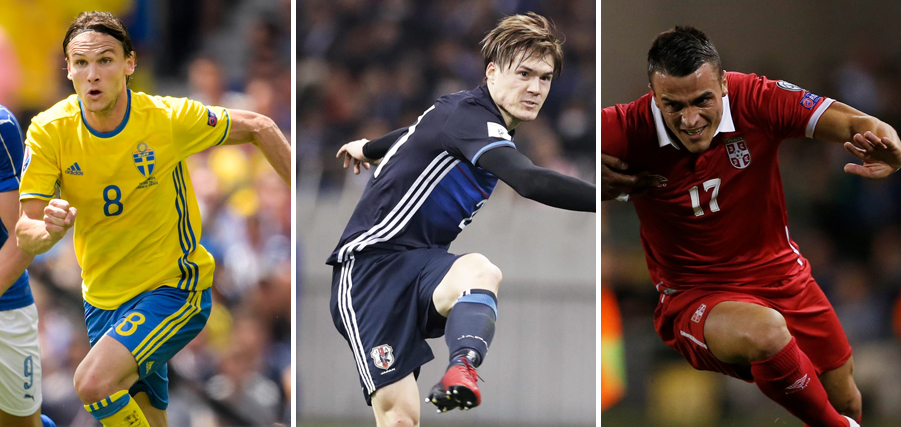 "The World Cup is the biggest thing for any footballer"
The World Cup gets underway on 14th June in Russia. Albin Ekdal, Gotoku Sakai and Filip Kostić are the three HSV players to be playing in international football's biggest competition. HSV.de talked to the trio days before the tournament gets underway.
You never forget your first memories of a World Cup. The magic of the biggest footballing event casts a spell over every child with an interest in football. "For me it was the 1994 World Cup in the US. Sweden finished in a sensational third place and won the bronze medal. That's our national team's biggest achievement to date," remembers HSV midfielder Albin Ekdal in his interview with HSV.de. He was five years old at the time and didn't watch the games live, but watched them again and again on video cassette afterwards. Twelve years later, Albin was there at the 2006 World Cup. "I went to see the game between Sweden and England in Cologne at the 2006 World Cup," says the 28-year-old. "It was pretty cool and a moment which made me really want to play in a World Cup for Sweden myself."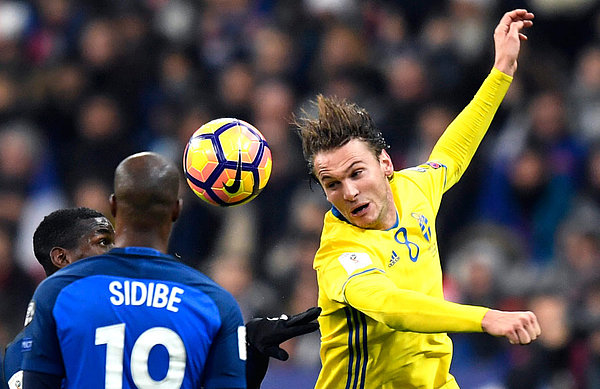 "Nobody knows what awaits us"
Today, twelve years later, Albin Ekdal is close to realising his dream. The midfielder has made 33 appearances for his country and is in the squad for the 2018 World Cup in Russia, where his side will face South Korea (18th June), Germany (23rd June) and Mexico (27th June) in Group F. "The World Cup is simply the biggest competition for any footballer. It's a great honour to be able to represent your country at such a big event. Millions of fans are watching you on the biggest stage in the world and that's a really special feeling, so I'm really excited."
The Swedish defensive specialist is not the only one to be feeling excited. Sweden haven't been at a World Cup since 2006. It will be their 12th participation in a World Cup, but none of the 23 players in coach Janne Anderssson's (55) squad have any World Cup experience under their belts. "Our situation is certainly a special one. Nobody knows what awaits us at the World Cup. Nonetheless, the feeling within the team is really good and we're eager for the tournament to get started," says Ekdal. "We want to get through the group stage. You don't go to the World Cup just to be there. We want to get into the knockout stage. The second game against Germany will be the most difficult challenge."
"A highlight of my career"
In addition to Ekdal, Filip Kostić (with Serbia) and Gotoku Sakai (with Japan) are the other two HSV players to be heading to the World Cup in Russia. Like Ekdal, Kostić is heading into his first World Cup. "I can't wait for the World Cup. A highlight of my career is approaching," explains the 25-year-old, who will face Costa Rica (17th June), Switzerland (22nd June) and record World Cup winners Brazil (27th June) in Group E. The ambitious winger is expecting the opener against Costa Rica to be a key game: "In my eyes, everything hangs on the first game. We need to make a good start, so we need to prepare ourselves meticulously for Costa Rica. After that, we want to stay in the tournament for as long as we can."
For Serbia and Kostić, who has made 22 appearances for his country, taking part in the second-biggest sporting event in the world has a special historical meaning. Kostić grew up in the 1990s during the Yugoslav wars and Serbia took part in its first World Cup as an independent country in 2010, after taking part in the 2006 competition together with Montenegro. Former Bundesliga player Mladen Krstajić (44) is Serbia's coach and the country, who are 34th in the FIFA World Rankings will be hoping to write another chapter in the history books in Russia.
"I feel really apprehensive"
Hamburg's third World Cup player is captain Gotoku Sakai. The flexible wing-back was part of the Japan squad at the 2014 World Cup in Brazil, but never made an appearance. In Russia, Japan will face Colombia (19th June), Senegal (24th June) and Poland (28th June) in Group H. The country are 61st in the FIFA World Rankings and are looking to reach the last 16 as they did at their home World Cup 16 years ago. "Our goal is of course to make it out of the group stage. We're working hard at the moment to make sure we can do that. We have a good mix of looseness and tension in the team," reveals Sakai.
Sakai, who has made 39 appearances for his country, also has a personal goal in Russia – to play his first minutes at a World Cup. "I feel really apprehensive. I'm desperate to play my first World Cup game. I'm preparing intensely both physically and mentally to make sure I'm in the best possible state to play." And what are his early World Cup memories? "The 2002 World Cup in Japan and South Korea had a particular significance for me because I saw a dimension to people's interest in football in my home country. I certainly hope that I can make more World Cup memories at the upcoming tournament."
The 21st World Cup kicks off when hosts Russia face Saudi Arabia in the opening game on Thursday 14th June (KO 17:00 CEST) and the HSV trio's first games follow soon after – best of luck, lads!


World Cup facts and figures:
-The 2018 World Cup in Russia is the 21st edition of the tournament (1930 Uruguay, 1934 Italy, 1938 France, 1950 Brazil, 1954 Switzerland, 1958 Sweden, 1962 Chile, 1966 England, 1970 Mexico, 1974 Germany, 1978 Argentina, 1982 Spain, 1986 Mexico, 1990 Italy, 1994 USA, 1998 France, 2002 Japan & South Korea, 2006 Germany, 2010 South Africa und 2014 Brazil)
-Iceland and Panama are set to play in their first World Cup tournaments.
-The 64 matches will be played in 12 different stadia. The opening ceremony and the final will take place in Russia's largest stadium, the Luzhniki Stadium in Moscow, which has a capacity of 81,000.
- The official match ball is called the "Telstar 18" and borrows its name and design from the first adidas World Cup match ball from 1970.
-The World Cup mascot is a wolf called "Zabivaka" (English: "Little goalscorer").
-36 referees and 63 assistant referees have been nominated by FIFA to oversee the games. Dr. Felix Brych, who was also at the 2014 World Cup, will be the only German referee. He will be accompanied by assistants Mark Borsch and Stefan Lupp.
-The World Cup trophy is 36.8cm tall, weighs 6.1kg and is made of 18-karat gold as well as two rings made from malachite.
-Brazil are the record World Cup winners with five titles. Germany and Italy are close behind with four titles each.
-Lothar Matthäus has made the most appearances at the World Cup (25). The German honorary team captain took part in five World Cups (1982, 1986, 1990, 1994, 1998).
-Miroslav Klose, the record World Cup goalscorer also comes from Germany. The forward scored a whopping 16 goals across four World Cups- 2002 (5 goals), 2006 (5), 2010 (4) and 2014 (2).