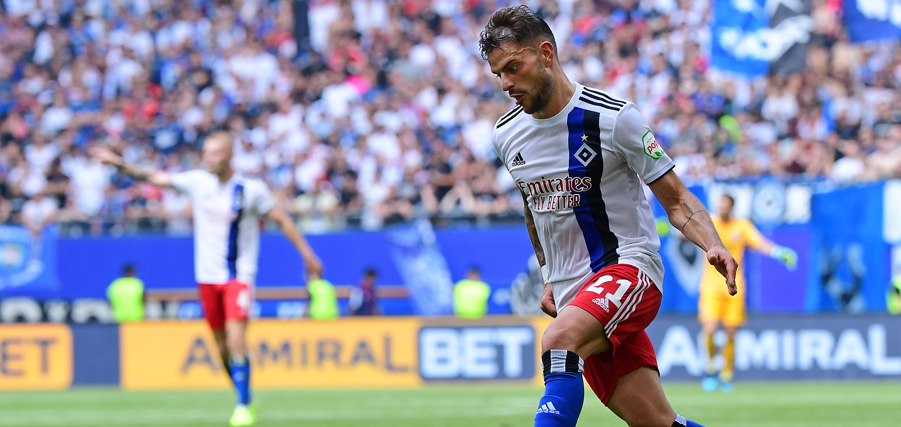 Tim Leibold: Life in the outside lane
A constant threat going forward and no way through at the back. Tim Leibold has wind in his sails since moving up north to Hamburg, whilst his opponents this season have so far been blown away.
print to the byline. One touch to set it. Pinpoint cross with the left foot into the danger area. The most recent occurrence of this regular feature in HSV's season thus far took place on Matchday 9 at home to SpVgg Greuther Fürth, as 'Leibe' provided the assist for Jeremy Dudziak's opener. Yet this has turned into somewhat of a signature move for Hamburg; goals against Nuremberg, Bochum, Karlsruhe and Hannover can all directly be linked back to the adventurous left-back. With four assists to his name, the Swabian-born pocket rocket sits in third position behind Mats Möller Daehli and Sebastian Stolze in the 2. Liga assist table, and top of the tree amongst his fellow full-backs. His predecessor, the much-vaunted Douglas Santos, currently plying his trade for Zenit St. Petersburg in the Champions League, managed six assists in 33 games last campaign.
From midfield machine to flying down the wing
"I see myself as a dynamic left-back. I see it as one of my responsibilities to make things happen going forward, want to provide as many chances for the attackers as possible. But my priority is always defending. If you don't concede any goals, then you can't lose any games," were Leibold's thoughts on his own playing style before the season got underway. Until now, both have worked pretty well: the 25-year-old also knows how to use the reverse gear, having eaten up 94.54 kilometres so far this season for 28th position in the league, a fact that will surprise no one that has observed his marauding performances so far this campaign.
Leibold represents the stereotypical modern full-back, but that hasn't always been the case. The small man from Böblingen, a tranquil town nestled in the Swabian Mountains around 20km from Stuttgart, didn't make the cut at VfB Stuttgart first time out and found his way into professional football via the backdoor in the form of the Oberliga side SGV Freiberg. His manager at the time, Ramon Gehrmann, who this summer took over the reins at Stuttgarter Kickers, moved 'Leibe' from central midfield to the left-back position, enabling Leibold to fulfil his dreams of becoming a professional alongside fellow teammates Jeremias Lorch (Wehen Wiesbaden) and Maximilian Rohr (FC Carl Zeiss Jena).
Pace on the pitch and tranquillity off it
Leibold overcame his previous setbacks to sign for VfB Stuttgart once again, and made his professional debut for the traditional German giants' second team on 20th July 2013 against Borussia Dortmund's amateur side in the third division. 176 appearances as a professional have followed, ten for the Rothosen, yet the good start to life on the Elbe river is not letting the 25-year-old get carried away; 'first deliver, then talk' is the full-back's personal mantra. "My main priority was to settle in Hamburg and concentrate on football," Leibold explained, who currently sits in second place behind Adrian Fein according to the sport magazine kicker's ratings of HSV players. "When it's going well for the team, it's easier as an individual to find your place in the squad. Naturally, I'm happy that I've been able to play my part up until this point. But it's still far too early in the season to be overjoyed; we have to see where the campaign takes us."
Up until now, the quality on HSV's left-hand side has been there for all to see. The Rothosen's fans will be hoping that there's wind in Leibold's sails once again on Monday night in Bielefeld, with one of those marauding runs providing the killer goal once again.