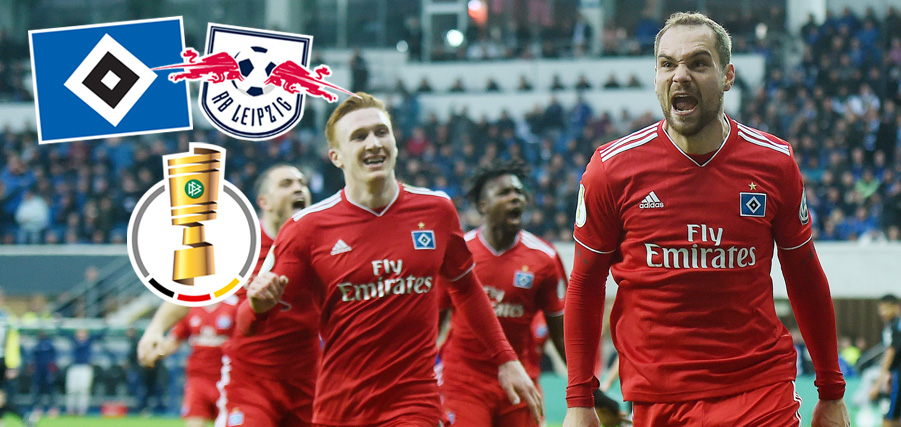 Pre match report
23.04.19
Time to make history together!
With a win against RB Leipzig tonight in the DFB-Pokal semi-finals (20:45 CEST), Hamburger SV has the chance to propel themselves into a Pokal final in Berlin for the first time in 32 years.
The last time Hamburger SV won a DFB-Pokal semi-final match was on 31 March 1987, with a 1-0 victory against Borussia Mönchengladbach. Of the current HSV squad, Aaron Hunt is the only member to have been alive at the time. The HSV captain was just 208 days old when Manfred Kastl scored the all-important goal to secure the club's third DFB-Pokal victory during the 1986-87 season, the last in club history.
"An important game for us"
Of the 64 teams that took part in the DFB-Pokal this season, just four remain: RB Leipzig, Werder Bremen, Bayern München, and Hamburger SV. In their first-ever season in the second division, HSV are also the sole second division team remaining. "We have a very important game ahead of us, with the chance to go to the final in Berlin. We're going to give it our all," said Hunt, a two-time Pokal winner with Werder Bremen (2008-09) and VfL Wolfsburg (2014-15). "For many players, playing in a DFB-Pokal semi-final is a highlight of their career. The same goes for me. I'm really excited and am expecting a really good game," said Pierre-Michel Lasogga. Lasogga, 27, currently has six goals across this season's Pokal matches and is in hot pursuit of the club record currently held by Edmund Adamkiewicz (1939, eight goals), as well as Horst Hrubesch and Jimmy Hartwig (1980-81, seven goals). "Who knows if any of us will ever have the chance to experience a DFB-Pokal semi-final again," said goalkeeper Julian Pollersbeck. It's clear that HSV are well aware of the historic significance of their upcoming duel, having beaten Erndtebrück (5-3), Wiesbaden (3-0), Nürnberg (1-0), and Paderborn (2-0) to reach the semi-final.
As the sole remaining team from the second division, HSV are the definite underdogs going into the duel against Leipzig. Third-place Leipzig are currently one of the strongest teams in the Bundesliga. Ralf Rangnick's side are undefeated in 14 matches across all competitions and have won their last six games. Leipzig are also on an eight-game winning run on the road, having won 2-1 in Mönchengladbach on Saturday night. "We're heading into the game with a healthy amount of confidence. In the end, the only thing that matters is that we give it our all in order to reach the final. At the same time, we're going up against a team that we feel will continue to play in the Bundesliga," said Rangnick. Leipzig's path to the semi-finals saw them take on Viktoria Köln (3-1), Hoffenheim (2-0), Wolfsburg (1-0), and Augsburg (2-1 after extra time).
"We need the fans to be extra loud"
Despite going in as underdogs, Hamburger SV are not losing hope. "It's a semi-final. As a player, you live for those kinds of games. It really doesn't matter to us who we are up against," said Julian Pollersbeck. "We're obviously up against a really strong opponent. No one is expecting us to dominate Leipzig. It will be a big challenge, but anything is possible during the DFB-Pokal." Pollersbeck, a U21 European champion, knows what it will come down to: "Everyone will have to be aware of what we have the chance to accomplish on Tuesday evening. We need the fans to be extra loud, since that affects our opponents. I hope that our fans throughout the entire stadium will give it their all. Our opponents will notice that we have 50,000 HSV fans supporting us. That's how we can succeed in this duel of David versus Goliath."
Hannes Wolf also has faith in his side pulling off an upset against Leipzig. "It is a very important game. We know that we will be up against a very good team. However, in football you always have a chance. We will have to give everything we can in order to win. We need a strong performance from our keeper and also a bit of luck."
Part of the magic of football is the possibility for underdogs to take down heavy favourites—something that perhaps no other competition does as well as the DFB-Pokal. One game. Ninety minutes plus whatever extra time is needed. David versus Goliath. It's time, to make history.

Possible lineup for RB Leipzig: Gulacsi – Mukiele, Konaté, Klostermann – Laimer, Kampl, Halstenberg – Sabitzer, Forsberg – Matheus Cunha, Werner
Referee: Dr. Felix Brych (München)