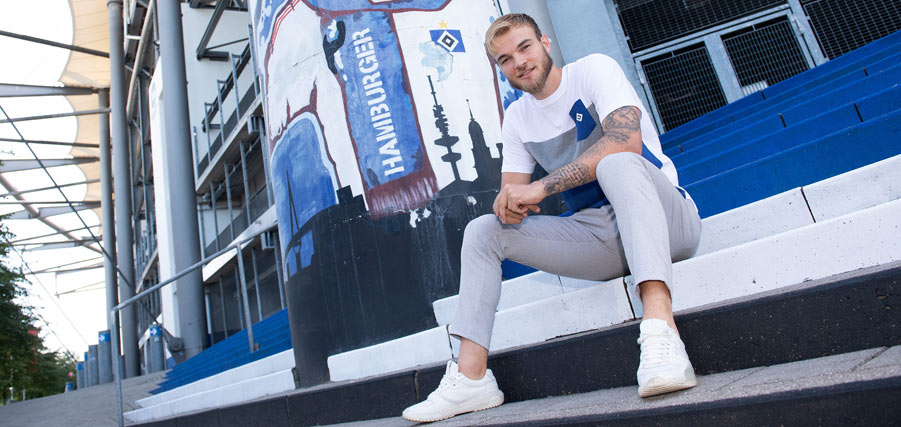 Timo Letschert signs for HSV
The 26-year-old centre-back makes the move from Italian club Sassuolo Calcio to HSV, joining the Hamburg club on a one-year deal.
The ink has dried and the player has been signed; Timo Letschert is HSV's newest summer addition, joining from Serie A side US Sassuolo. The 26-year-old centre-half arrived in Hamburg on Tuesday morning, successfully completing his medical at the UKE Athleticum, meaning he was free to put his signature to a one-year contract on Wednesday (24th July) that keeps him in Hamburg until June 2020. Head of Sport Jonas Boldt was more than happy with being able to put pen to paper with the Dutchman: "With Tino we've signed a very experienced player, who's also at a good age in terms of his development. He's strong in the tackle and has that desire to win. That sometimes can rub people up the wrong way. But that's exactly the kind of character that we need, particularly in defence."
"The right move for my career"
The new man is more than ready to take on the many challenges that the 2. Liga presents: "The talks with the hierarchy here went very well. I have a good feeling that this is the right move for my career. I'm very happy to be at HSV and am looking forward to the challenge of the 2. Liga. I spoke with Rick van Drongelen about the club and its fans. He was glowing in his appraisal and only told me good things. That was definitely an extra motivation for me."
The centre-half, who had spells during his youth with Ajax and SC Heerenveen before settling at FC Groningen, celebrated his full Eredivisie debut for the club in April 2013, having signed for the green and whites 8 months earlier. With game time limited in Groningen, Letschert signed for Roda Kerkrade, only to then be loaned out to FC Utrecht seven months later. Utrecht were suitably impressed to sign Letschert on a long-term basis in 2015 and the best season of his career followed, playing forty times and contributing three goals and an assist for the Eredivisie side. His performances didn't go unnoticed, and, having made four appearances for the Dutch U21 and U20 sides, got his first call-up to the national team during the 2015/16 season, and in August 2016 completed his transfer to US Sassuolo. Letschert was never quite able to fully make a breakthrough at the Serie A side, wearing the famous green and black only 19 times over two years, before once again being loaned back to Utrecht. Back at his old stomping ground the 1.88m tall defender started 33 games for Utrecht, this time with two goals and two assists, before once again heading back to his home club and now signing for HSV.
Date of birth: 25th May 1993
Place of birth: Purmerend, Netherlands
Previous clubs: FC Groningen (7/2012-1/2014), Roda Kerkrade (1/2014-9/2014), FC Utrecht (9/2014-8/2016), US Sassuolo (8/2016-8/2018), FC Utrecht (8/2018-6/2019, Loan)