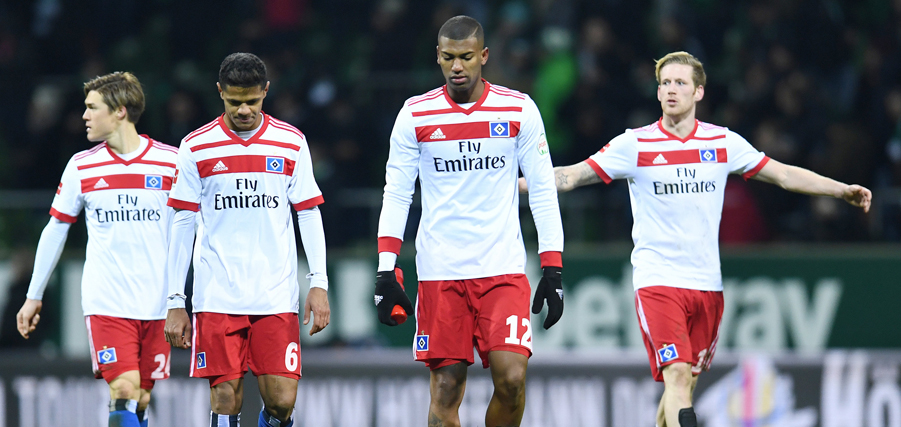 "To lose in this way, it's tough to take"
In the 108th Nordderby, it was Werder Bremen who came away as 1-0 winners against Hamburger SV. The questionable refereeing decision that led to the goal was the hot topic after the final whistle. HSV.de has all the reaction to the game.
The decisive moment came in the 86th minute of the game: Ishak Belfodil ran for the ball from a suspiciously offside position, although he was beaten to it by Van Drongelen. He looked to made contact with the back of the Dutchman's leg and consequently force him to kick the ball into his own net. Offside or a foul? A very contentious goal is the thing on everyone's lips after the game. Here's all the reaction.
Andre Hahn: We fought for 86 minutes and gave our all as a team today. We were the better side in the first half, although Bremen were a step ahead of us in the second. It's tough to concede in the way that we did. In my eyes he was offside and the goal shouldn't have counted. To lose in this way, it's a hard pill to swallow. A 0-0 draw would have been a good result for us, even if we set out to win. Every point is hugely important for us.
Heribert Bruchhagen: The goal was clearly offside. I can't believe or understand why it wasn't given as such by the referee. However, you still have to be able to score a goal yourself when you play away if you want to avoid relegation. We didn't do that. We deserved at least a point, but we weren't incisive enough in the final third to get it. This is now the sixth or seventh time we've lost a game by one goal. That is frustrating. There's still a chance to avoid relegation though, and we will do all we can to do just that.
Bernd Hollerbach: We witnessed an intense derby, with lots of duels and everyone covering a lot of ground. It felt like we were the better team in the first half, but in the second Werder applied more pressure. It would have been a fair draw. Ultimately, we need to accept the incorrect decision. Rick's standing leg was kicked through on the line. That's a foul for me and they have to be seeing that in Cologne. That's frustrating, because I can't say anything against the team's commitment and character today. We're all disappointed. Even though it hurts, we need to sleep on it and from tomorrow start looking forward again.
Florian Kohfeldt: It was a very intense match, with lots of running and lots challenges. HSV really put us under pressure in certain areas of the pitch; we were often lacking a good first touch at a high tempo. As the game went on, we gained more control, won the ball back more and gave away very little on the break. Of course we then went on and scored a late goal and hit them with a lucky punch, so to speak. A point would have been ok, but the victory certainly isn't undeserved.