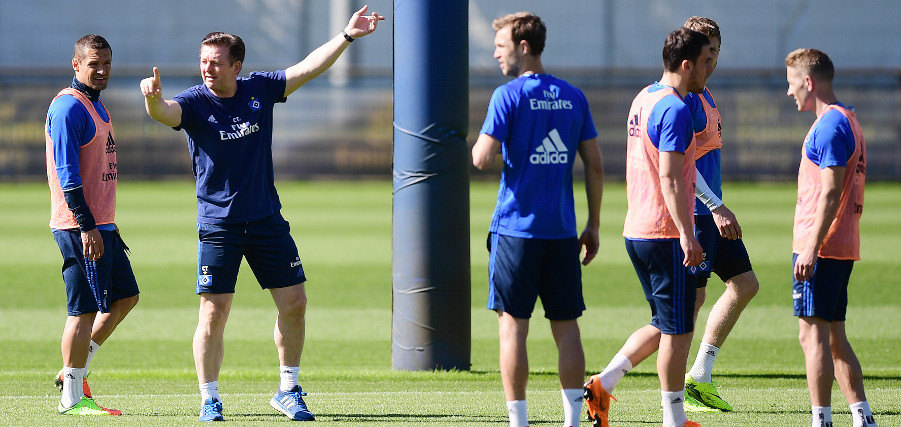 Preparation starts for season finale
The Rothosen kicked off their preparations for this weekend's Bundesliga finale against Borussia Mönchengladbach with two training sessions on Tuesday. While Tatsuya Ito and Stephan Ambrosius trained individually, four players from the academy took part with the rest of the first team.
Head coach Christian Titz started things off with a session at 10:00 CEST on the Volksparkstadion training grounds. Titz had to do without forwards Fiete Arp (illness) and Bakery Jatta (dentist appointment). To make up for it, young academy prospects Arianit Ferati and Fabian Gmeiner (both Under-19s) as well as Jonas David and Tobias Knost (both Under-21s) joined up with the first team squad. Japanese winger Tatsuya Ito, who was forced off early in the game against Frankfurt due to a concussion, trained individually alongside Stephan Ambrosius. Barring any unforeseen setbacks, the forward is expected to rejoin training in full tomorrow. Aaron Hunt also was limited in training today (muscular problems).
With the sun shining in Hamburg, the training team predominantly made the team work on their attacking play. A number of spectators followed the events from nearby and paid close attention to every touch of the ball. With the final game of the season against Gladbach just around the corner, the focus of the whole team is fully on themselves. The fact that a Wolfsburg loss to Cologne could allow HSV to leapfrog them into the relegation play-off position is of secondary importance. "We're only worried about ourselves. We want to prepare ourselves as best as possible with a good week of training. We still want to stay loose though," emphasised Titz after this morning's session. Making sure to stay loose and have fun will also be important in the day's second phase of training.

After training, Gotoku Sakai thanked the fans for their support throughout the season on behalf of all his teammates. The players gave out a portion of ice cream to every person who came along to spectate today as a small token of their gratitude.