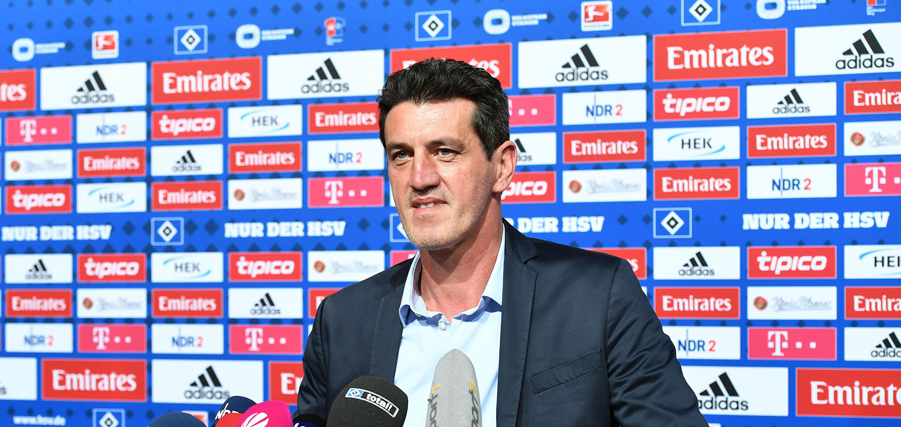 "We are ready if a chance appears"
At a press conference in Hamburg on Wednesday (18.01) HSV sport boss Jens Todt about new signings, possible further additions and the team.
The first of two of three planned winter transfer deals are done and dusted. Mergim Mavraj joined the club at the end of December 2016 while the club announced the signing of Greek fellow central defender Kyriakos Papadopoulos yesterday. Theformer Bundesliga midfielder explained that the club is searching for a man to play in front of the back four. The 47 year old sport boss hopes to complete a deal before the transfer window closes on January 31, but knows that everything must be just right for the club is any deal to be done.
Jend Todt on…
… new signing Papadopoulos: He has physical presence and will run through walls for his team. He is also a utility man, which is always useful. He can play in his preferred position in central defence but can switch to defensive midfield if required. We have had him on the list for some time and have of course weighed up the medical factor. He is fit and we are glad that we were able to secure the deal.
… further transfers: Our plan was to strengthen at the back, which we have done with the signing of two new men. Now we are looking for someone to play in front of them, but we will not be rushed into anything or have our backs put against the wall. Usually the last week of the January is a busy time on the transfer market. If we get a chance to sign someone and everything goes perfectly financially etc. we are ready to move.
… possible players leaving HSV: Alen Halilovic and Aaron Hunt are currently talking top potential new clubs, but no deal is close to completion. It wasn't our idea for them to leave us, the players approached the club requesting to go. We have an open ear regarding any possible transfer deals but the club has not asked them to leave.
… team matters: We have been light in numbers recently, so the two new signings will do us good. I had a good feeling about our team beforehand. I may be new here, but the improvement in results leading up to the winter break released something. Now training is more focused and the mood within the team is good. A good start in Wolfsburg is vital. We wantto continue on the good form shown before the break.