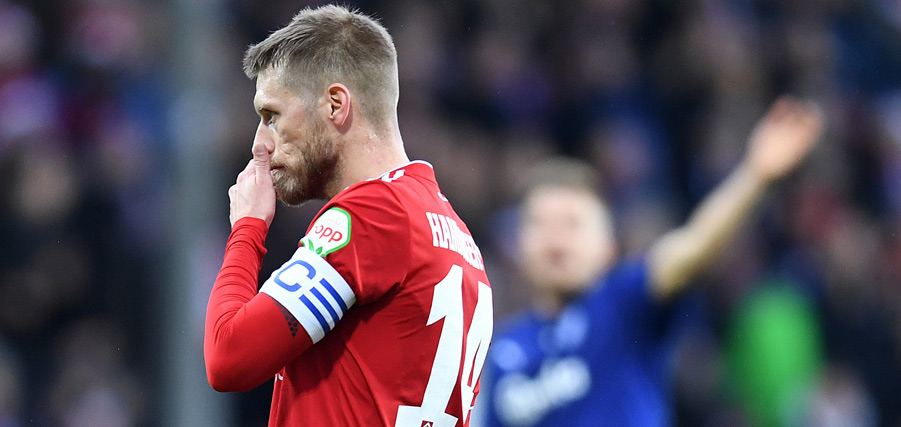 Post match reaction
23.12.18
"We cannot afford to start like that"
HSV suffered a 3-1 defeat at Holstein Kiel on Matchday 18 of the 2. Bundesliga season. A poor first half was mainly to blame for the defeat, which was emphasised by captain Aaron Hunt. HSV.de presents the match reactions.
Holstein Kiel seem like a bogey team for Hamburger SV this season. Kiel managed another victory over Die Rothosen to add to their 3-0 win on the opening matchday. The Storks went 2-0 up within the first 18 minutes thanks to goals from Serra and Kinsombi while the visitors were slow out of the blocks. "It was the worst first half for two months. We cannot afford to start like that," explained captain Aaron Hunt after the game.
Aaron Hunt: It was our worst first half for two months. We had a game plan but it went out of the window after such a poor start. It just was not falling for us, even in the second half when we played much better. We cannot afford to start like that. We will be hurting today and tomorrow because we wanted to end the year in a better way than that. However, it is not the end of the world and nothing dramatic has happened. We have had a good first half of the season so we will not let ourselves be too down about it.
Khaled Narey: Every game is tough. Kiel are a good team who play good football. If you are not at your absolute best then this is exactly what happens to you. Kiel were by far the better side in the first half but if we had not conceded so soon after we scored the game would have been completely different. Coming back from two goals down was extremely difficult.
Manuel Wintzheimer: I am delighted to have made my first appearance but I am obviously disappointed that we lost the game. However, overall we have had a good start to the season. We now have a chance to have a break and start next year off with a win. I have always given my all to try and get my chance and I have not taken my foot off the gas or showed any frustration in the past few weeks. I need to carry this on to get more chances.
Hannes Wolf: We had a plan and wanted to put in a good performance but this did not come to fruition. Holstein Kiel won almost all the duels in the first half and not just at set pieces. We lost too many balls going forward. We came out firing at the start of the second half and got our goal. The ball was not cleared properly for their third goal in an important area of the pitch. It was very difficult from that moment on even though we had a few chances. We deserved to lose overall because we lost too many battles over the pitch. We imagined the game to go much differently and we are very disappointed but it has been a good start to the season overall. We will be hurting today but tomorrow we will be celebrating Christmas and be ready to fight when we come back in the New Year.
Tim Walter: I am very proud of my team. Everyone could see today how good my players are. The first half was the best that I have seen from this team. We passed the ball well and caused HSV lots of problems. It was a bit nervy at the beginning of the second half but my team defended well and held on. My team deserve a lot of praise.