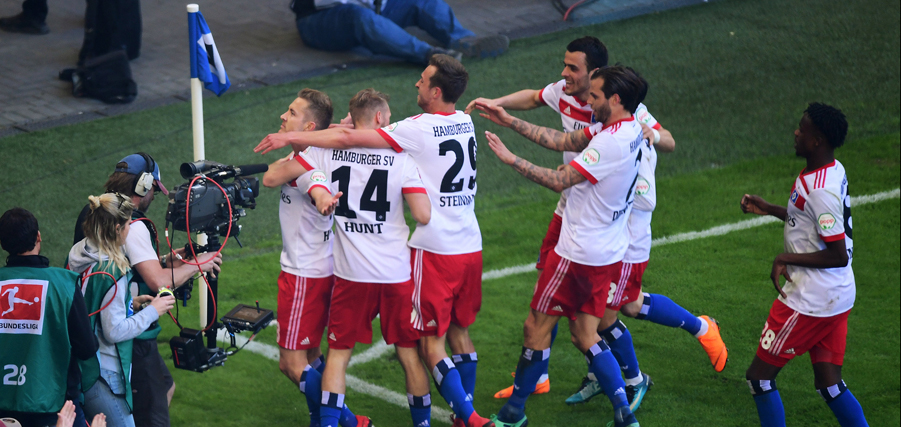 Post Match Reaction
21.04.18
"We gave our all and it paid off"
Hamburger SV beat SC Freiburg 1-0 on Saturday afternoon, and with it kept their hopes of staying in the Bundesliga alive. HSV.de has all the reaction to the game.


As expected, the game between Hamburg and Freiburg was hard fought. The Rothosen, who were kept in the game due to the remarkable efforts of Julian Pollersbeck in the first half, were propelled to victory thanks to their passion, the Volksparkstadion being behind them and a wonderful solo goal from Lewis Holtby.

Aaron Hunt: We were somewhat lucky in the first half. We were a bit too timid in parts, but we recognised what we needed to do better once we came together at half time and that was be a more courageous. We turned it up a notch in the second half as a result. It wasn't a pretty game, but we gave our all nonetheless. It's obviously great for Lewis that he's back to his best after a difficult phase. Every player is important though. We're playing with a newfound sense of belief and everyone is buying into the coach's philosophy. We really wanted to make sure that the game in Wolfsburg is going to be a meaningful one. We did that. Now we want to win there too.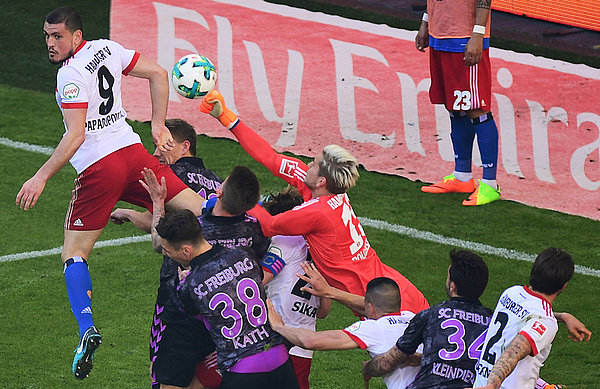 Julian Pollersbeck: That was a very testing game. As a keeper, you have to expect a few shots to come at your goal. It's my job to keep them out. I managed to do that well today. The win was a whole team effort. That was proven through Christian Mathenia coming over to me and celebrating with me after the final whistle. We have a good relationship and have been through a lot, because we've gone through three goalkeeper changes. In general, all of the goalkeepers have a good relationship, because it's crucial that we support each other. We've got three games left now. We're not going to let any outside noise affect us and we're going to keep on believing in ourselves. We know it'll be hard, but we also know that everything is still possible.

Lewis Holtby: "I'm having a lot of fun playing football at the moment and I'm feeling confident. If the coach trusts me, then I'm going to do all I can to pay it back. Despite having gone through a difficult phase recently, I've stayed calm and professional. The critics have only served as extra motivation for me. I want to show that I'm a good footballer. We're a good team as a whole, however. Every individual player is important and gave everything even went things weren't going well. The fans were unbelievable again tonight. We're really thankful for their support. We now have to build on this and beat Wolfsburg.

Gotoku Sakai: Three points are three points, it doesn't matter how you get them. Freiburg played well and we found it hard for long periods of the game. We were somewhat lucky in the first half. But in the end it was an entertaining game in which we gave our all for the full 90. You can see how we still have a chance and now we need to win away to Wolfsburg.
Frank Wettstein: It wasn't an easy game to watch. The first half didn't go so well unfortunately, but we managed to improve in the second even though we couldn't quite do enough to build on our lead once we scored the first goal. Before the game, we had a small chance. It's still small, but it's got a lot bigger now. There's still a gap and we have to keep doing all we can in the games to come. We can't play like we did today again, rather build on it and put in an improved performance against Wolfsburg.

Christian Titz: The first half didn't go as planned. Freiburg did very well and we weren't good enough without the ball. In the second half, we made changes and got the opening goal. Then, we were unable to make it 2-0 and that made for a tense finale as Freiburg are a team who can always score late goals. I have to praise my team. It's not easy preparing for a game of this magnitude. We have to do the same again in Wolfsburg and are now fully focusing on that game.

Christian Streich: The first half was a hard-fought affair. We didn't started week and didn't put our opponents under enough pressure. We found our way into the game and create chances but didn't take them. We lost our momentum at the break and that's when we conceded. Then, when we went down to 10, the game was pretty much over. Congratulations to HSV for the win.