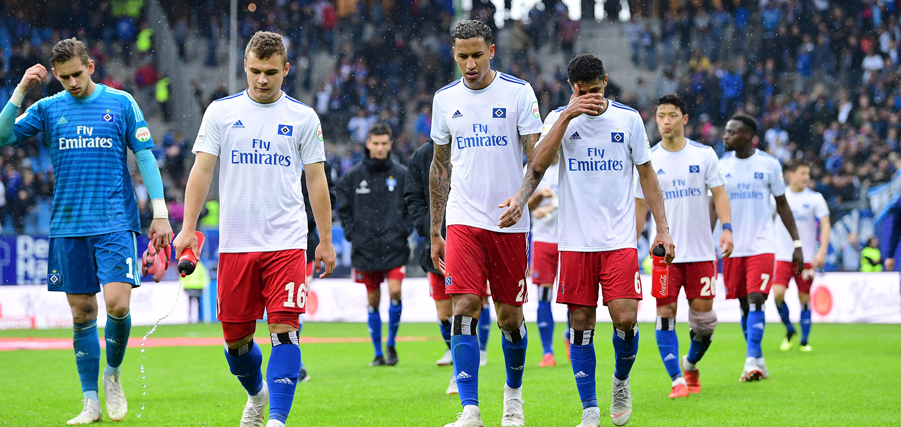 Post match report
23.09.18
"We got what we deserved today"
Hamburger SV suffered a heavy 5-0 defeat at home to SSV Jahn Regesnburg. Those involved were understandably frustrated and critical of their performance. Hsv.de has summarized the post-match interviews.
HSV had a day to forget on Matchday 6 of the 2. Bundesliga against Jahn Regensburg. Away striker Sargis Adamyan was man of the match, scoring a hat trick inside the first 35 minutes. HSV failed to recover in the second half, losing that 2-0. The Hamburg players were brutally honest with themselves after the game and were especially critical of the individual mistakes which cost them today. HSV.de presents the post-match thoughts:
Aaron Hunt: We got what we deserved today. We have to be honest and say that this kind of defeat had been coming. We were very lucky to win against Heidenheim and Dresden. Not one HSV player performed well today, even the attackers had problems. Obviously I should have scored the penalty, and that could have made it a slightly different game. I wanted to send the keeper the wrong way, which unfortunately didn't work. I guess that's just football. We made so many individual errors today and this time they were actually punished by our opponents, unlike in previous weeks. We don't need to do anything drastic; we just need to stop giving our opponents so many chances to score.
Khaled Narey: Not one HSV player played anywhere near their best today. We were all poor. It's terrible that we've conceded five goals, especially the way we did. We are going to have a lot of work to do analyzing all the mistakes we made today. It's hard for me to give an explanation so soon after the game has finished. What I do know, however, is that we shouldn't change our whole philosophy on the back of one defeat. We will start from scratch again in Fürth.
Christian Titz: We conceded two goals in the first half which were largely down to us. Julian made a misjudgement for the first goal, which can happen. He now needs to learn from this mistake. For the second goal, two of our defenders lost their men and then we deflected the shot in as well. Against a team like Regensburg it then isn't easy to come back. We managed to get a foothold on the game, but couldn't find a goal. Then we conceded another goal from the next set-piece. We've simply made too many mistakes today. We are also fully aware that we are conceding too many goals, which will be a big part of our post-match analysis.
Achim Beierlorzer: In the past few weeks we have discussed how we haven't been able to make the most out of our chances. Thankfully today was the complete opposite. We knew the strengths and weaknesses of HSV and thus knew that we would have to be solid at the back today. At the same time, we wanted to make some aggressive and direct runs forwards to find the right "moments". We did this really well, even though I feel the result may have flattered us a bit. I am hugely proud of my team.