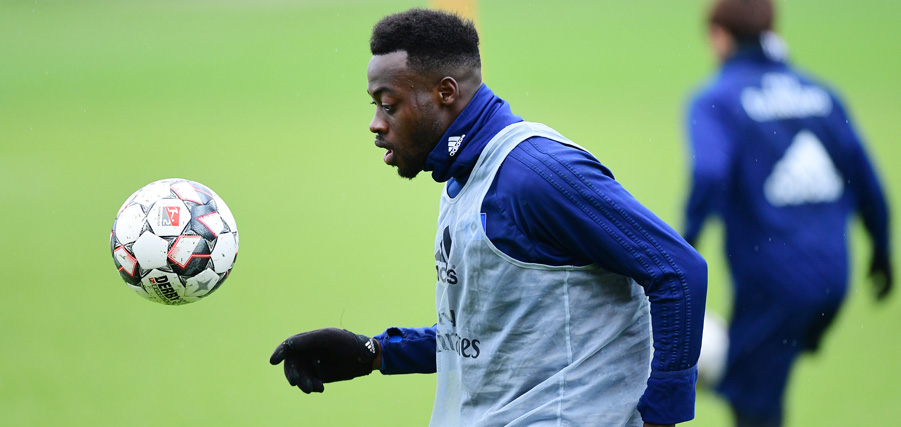 "We have to constantly work on our performances"
HSV WINGER KHALED NAREY SPOKE TO US IN AN INTERVIEW ABOUT HIS TIME OFF IN DUBAI, THE SPECIAL TEAM CULTURE AT THE CLUB AND THE DANGERS THAT LIE AHEAD IN THE SECOND HALF OF THE SEASON.
Khaled Narey came to HSV from SpVgg Greuther Fürth in the summer of 2018 and took to his fifth professional club like a fish to water, scoring six goals and providing two assists in the first half of the season – the second best scorer record of any Hamburg player after Pierre-Michel Lasogga (seven goals, two assists). In an exclusive interview with HSV.de, the versatile 24-year-old spoke to us about his successful campaign so far, the reasons behind the special team spirit within the squad and the challenges they face over the remaining 16 Bundesliga 2 games.
Khaled, you're all getting back down to business in the winter break preparations. Before that, you all had twelve days off – how did you spend this time?
I went to Dubai for the short winter break with my wife and used the time to recharge my batteries. It did me a lot of good just relaxing on the beach a little and soaking up the atmosphere out there. Dubai is just a fascinating city to me; I still don't understand to this day how skyscrapers like Burji Khalifa could have been built. It's ridiculous.
Dubai has become something of a hub for the footballers' scene in recent years, hasn't it?
Yes, that is true. There are always an awful lot of footballers here during the winter break, and this year it was generally very busy. Aaron Hunt and Lasso were there as well and we often met up for dinner, which was really cool. I also met up with a few former teammates of mine – you always somehow end up bumping into people out there.
Speaking of your relationship with HSV teammates, your fellow players have mentioned on more than one occasion recently that there is a special kind of atmosphere in the dressing room. You were new to the team last summer – what do you make of the team spirit here in comparison to your previous clubs?
It is a little different here, because we're a very young team. We're all around the same age, grew up with the same things and have similar interests and things to talk about. For example, if something out of the ordinary gets posted on Instagram, then everyone will know about it straight away and we talk about it. Aside from that, everyone gets involved in the conversations, there's nobody who always takes a back seat with these things. We laugh together a lot and like to take the mick out of each other. I have played for teams in the past where the age groups have been diverse and there were a lot of young players and a lot of older ones. The atmosphere there was also relaxed, but just different somehow.
Aaron Hunt is the only player in the squad over 30. What role does he take as the captain and leader of this young pack?
Aaron doesn't seem his age at all. You can really have a laugh with him and he's actually one of the funniest players. I get along with him really well, he's become a good friend in a very short amount of time.
When you feel at home, the performances are usually good as well. You've already scored six goals this season, equalling your record from last season in Fürth. Were you a bit surprised yourself?
Not really surprised as such. I knew I was coming to a better team that plays a different kind of football. In Fürth we sat very deep and looked to counterattack. Here at HSV, we try to have more of the ball, which will lead to more chances being created. I certainly knew I was capable of getting six goals and it's my aim for the second half of the season to score as many goals as I can, without giving a concrete number.
Halfway through the season, what are your current opinions on the team's performance levels?
In my opinion, we are one of the best teams in the 2. Bundesliga. This is reflected in our league position. You also feel that our opponents are given us a lot of respect. We have a lot of quality in the squad. If someone experiences a bad day, there is always someone there to the left and the right of you who can help.
Towards the end of the Hinrunde, HSV went on a long unbeaten run. Did this help you and the team to build up some self-confidence?
I think we already knew what we could achieve. After disappointing home defeats to Holstein Kiel and Jahn Regensburg, we went on a successful run of good results which of course helped to increase our self-confidence. However, we also know that it is never an easy ride in the 2. Bundesliga and we have to constantly work on our performances. The second match against Kiel was an example of what can happen when we don't play to the best of our ability. That was a lesson for us to learn from.
A lesson which came at the right time?
Definitely, it certainly wasn't a nice feeling to enter the winter break on the back of a defeat. We wanted to secure 40 points before the winter break and we missed out on this target. Our focus is to put things right against Sandhausen and return to the top of our game following the disappointment in Kiel.
Is the important thing now focusing on the remaining 16 matches of the season and where are the differences between the first and second halves of the season?
The second half of the season is always harder as many teams in the bottom half of the table are competing to avoid relegation. These teams give 200% each match and play more aggressively. We have adopt this fighting spirit. If we take the level we were playing for most of the Hinrunde, we will be in a good position to win multiple matches. We have this clear aim ahead of us and we have to work hard now in our training camp to achieve this goal.