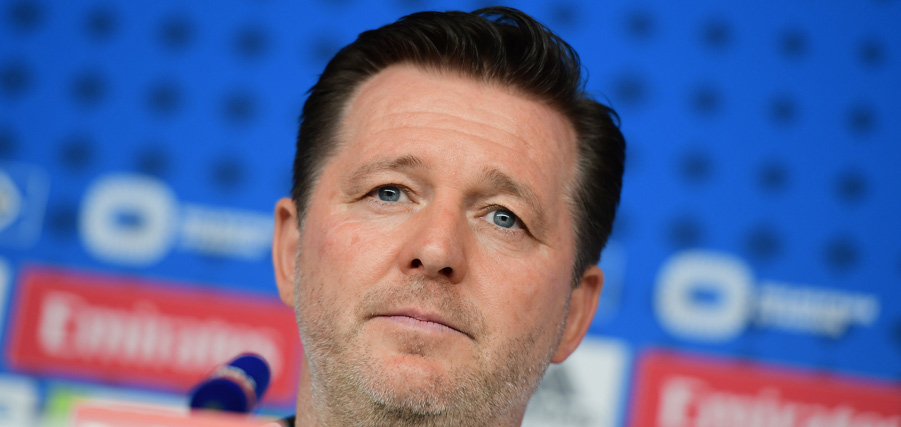 press conference
24.09.18
"We have to shift our focus to the game in Fürth"
AHEAD OF HIS SIDE'S TRIP TO TAKE ON SPVGG GREUTHER FÜRTH THIS THURSDAY, HEAD COACH CHRISTIAN TITZ SPOKE ABOUT LEARNING FROM THE DISAPPOINTING LOSS AT HOME TO REGENSBURG ON MATCHDAY 6, BEFORE PREVIEWING THE NEXT OPPONENT.
Christian Titz was his usual analytical self throughout his media availability on Monday and his answers got straight to the point. He made no effort to pick out any positives from the crushing 5-0 home defeat to SSV Jahn Regensburg on Sunday. There were a lot of things that the HSV coach was less than pleased with. Even so, the 47-year-old emphasised that the result in no way means that everything that clicked the week prior should be called into question. He is now looking to learn from it and work with his team towards getting a much better result this Thursday in Fürth (27th September, Kick-off: 20:30 CEST). In Titz's words, the team from Fürth are "very compact and are very effective in transition." Everyone involved knows that a step up in performance is needed to get back on track and this week's training schedule has been adapted accordingly. Now it's all about showing a reaction on Thursday.
Titz spoke in detail about...
… the atmosphere within the team: It's clear that it wasn't our day yesterday. We were obviously crushed by the result and we know that we didn't do a lot of things right. It's my job now to bring the players together and give them the belief that we can get back on track. We can't allow ourselves to remain too focused on what has already happened. We have to shift our focus to the upcoming game in Fürth. It's important that we identify the players that can help us to be successful on Thursday.

… analysing what went wrong against Regensburg: We spent a long time looking back at yesterday's game and picked up on what we weren't happy with collectively and individually. We didn't defend as a unit and we didn't apply enough pressure to the man on the ball in situations in which we were outnumbered. We also made a lot of errors at set pieces. We've worked on those mistakes today in training to be better on Thursday.
… the overwhelming amount of criticism after the defeat: I can speak for myself and say that I don't engage with things like that. I know that I am coaching at a club where everything is judged to the extreme. If you lose so convincingly, it's normal for there to be criticism. At the end of the day, we can't let it get in our way. If we engage with things like that, it would only waste energy which we need to be utilising elsewhere.

… the personnel situation: We were without Hee-chan Hwang, Orel Mangala and Fiete Arp in training today. The first two both picked up knocks in the Regensburg game, while Fiete has the flu. We'll take things day by day with them to judge whether they will be available for the game in Fürth.

… the preparation for the game against Fürth: We will do some regenerative work tomorrow and then have our final full team training session ahead of the game on Wednesday. Then we travel to Fürth and we'll have another small training session on Thursday morning. We're expecting to face a very well organised side, who are built to counter from their own half with a lot of pace. Their past few games have shown that they don't allow many clear-cut opportunities and take their own chances at the other end effectively.