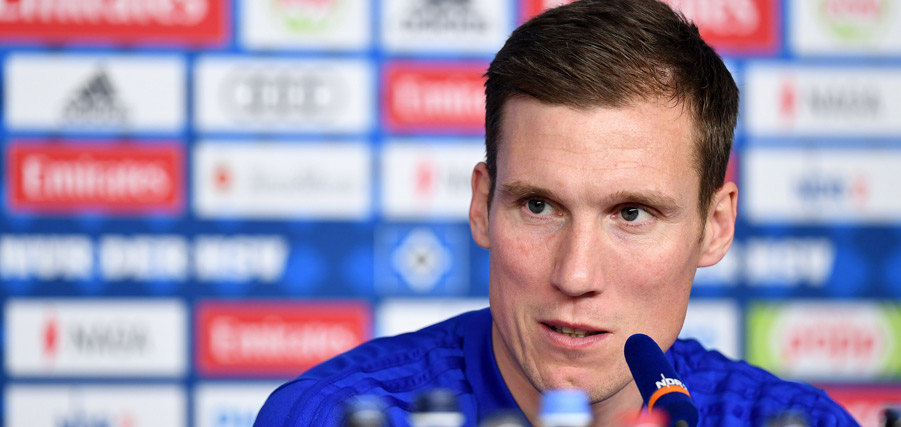 Press Conference
12.12.18
"We must not let our performance levels drop"
In the press conference before the away game at Duisburg, Hannes Wolf spoke about player availability, the upcoming opponents and the significance of topping the table at Christmas.
Hamburger SV managed to win the final home game of the year with two more matches to play before the winter break. The first of which is this Friday evening against MSV Duisburg on Matchday 17 at the Schauinsland-Reisen-Arena. HSV will be backed by 4,500 away fans in Duisburg hopeful of cheering their team onto another victory. Hannes Wolf made it clear in the press conference ahead of the game against the Zebras that HSV will only be able to get the three points with hard work and full focus. "We need to be on the ball for the full ninety minutes and play at our very best. We will only get the win if we are alert right up until the final whistle."

HSV head coach spoke about...

...player availability: All is looking good with Julian Pollersbeck. He trained well today and will be ready for Friday. I am optimistic that Aaron Hunt will also be fully fit by Friday. If he gets through training tomorrow unscathed, he will be able to play against Duisburg.

...the opponents: We are expecting Duisburg to be a team that like to play the ball on the ground. We will obviously want to keep Duisburg as far away from our own goal as possible and we will need to defend well. Our aim is to continue playing at a high level but we need to be aware that MSV will try to make the game difficult for us.

...the significance of topping the table at Christmas: That does not bother me too much because I just want to keep focusing on the next game. We have had a full week to prepare for the match and we want to be on top of our game. We want to win and also play good football. There are three points up for grabs when you play against Köln and this is exactly the same when you play the likes of Duisburg. We want to get the three points at all costs
...his first weeks in Hamburg: It has been great so far. I took over a very tight-knit group of players that can fight for each other and also play good football. We have a good mix of soldiers and artists. We have been performing well up until now and we need to keep that up. We are not allowed to let our performances drop. Nothing will be handed to us on a plate. Football is an unpredictable game and we need to always be alert.
...potential player exhaustion: It was obvious that the lads needed a break after the Paderborn game so we started the week later than usual. However, everyone was back on it yesterday in training. The session was tough but everyone gave their all. We want to leave everything out on the pitch on Friday and play with a good intensity. It is about having a strong mentality. We need to continue being alert in the game and not take our foot off the gas. It is a given that we cannot be perfect all the time but we want always try and be our best.