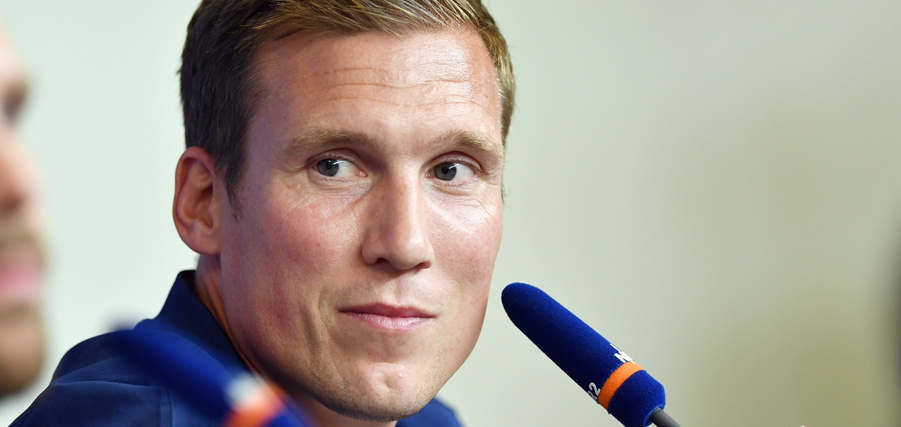 Press Conference
28.10.18
"We need a clear plan"
Hannes Wolf spoke to the press ahead of Tuesday's DFB-Pokal game about their upcoming opponents, the value of the DFB-Pokal and working with his new coaching team.
Having claimed his first victory as HSV head coach in a 1-0 win over Magdeburg on the weekend in the league, Hannes Wolf and his team will face SV Wehen Wiesbaden on Tuesday (30/10/18, 20:30 CET) in the second round of the DFB-Pokal. The third division team recently beat Hamburg's rivals St Pauli in the DFB-Pokal, a warning to Die Rothosen. "We can't expect to just build on our performance on Friday. We have to start again with a clear plan to go into the game, just so we can have a chance to win," explained HSV-coach Wolf.
The HSV Coach spoke more on...
...the joy of winning in Magdeburg: We were really pleased because it reflects who we are as a club and the path we're on in the second division. The three points on Friday were really important, especially as we were a man down, and the team had to put in a great display as a result. We can't just say that we're now going to build on this result. We've got to be like this every game. We're now fully focused on our upcoming opponents.

...possible rotation: There are always times when rotating makes sense, but for the most part, it's difficult to answer such a question this far in advance. We have enough time between these three games to do some recovery sessions. What matters is finding a line-up that is most likely to go out there and win. Of course, this doesn't just mean picking a starting XI, but also finding the best-possible substitutes to have on the bench.
...the state of the squad ahead of the Pokal match: It's been two days since the match in Magdeburg and everyone's been working really hard. Orel is a bit fatigued and didn't want to risk anything for that reason. We've kept him out of a couple of training sessions for this reason, but he's not injured. Apart from that, we have a full squad to choose from.
HSV head coach Hannes Wolf wants to bring his team's "style of play up to a high level".
...his assessment of the upcoming opponents: Wehen Wiesbaden are a top side in the third division. They had a difficult start to the season which was surprising but they came good again and were able to beat Karlsruhe. Their win against St. Pauli showed how strong they are, as they were also able to knock out a second tier side in the DFB-Pokal. We expect to be heading into a tough game. We don't want to just go there and pass the ball around, we want to win. We must make sure our style of play is up to a high level in order to perform well in this cup-tie.

...the meaning of the DFB-Pokal: It's a great competition with a special feeling. The fact that you can play at such a high-level with the possibility of reaching a final is something really amazing. We have two competitions that we are concentrating on and want to do as well as we can in. We have to give everything to have a chance.
...working together with his new coaching staff: On a personal level it's all going very well. This week we have spoken an incredible amount and shared a lot of ideas. Of course you have thoughts beforehand about whether or not things will work out, but I was convinced from the start that we would work very well together. This has already been confirmed.