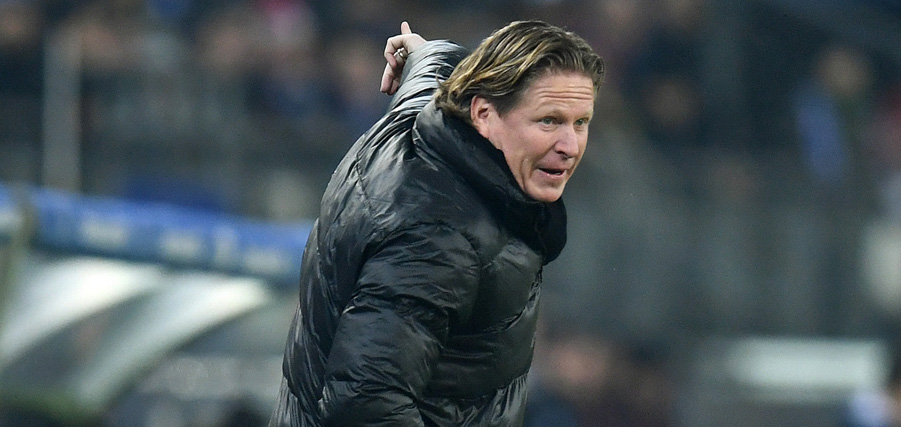 Post Match Report
14.12.17
"We need a near perfect performance"
Hamburg are determined to look forward following the frustration of Tuesday's defeat to Frankfurt. Mönchengladbach are the last test before the winter break, the final chance to pick up points. It's an opportunity the Rothosen are determined to seize.
Midweek fixtures bring positives even after a tough defeat. While Hamburg remain disappointed by the manner of the defeat to Eintracht, the match on Friday is a chance to pick yourself up and go again. Hamburg play Borussia Mönchengladbach on Friday (20:30 CET). Markus Gisdol's men are determined to end this year on a high. "We have another game just around the corner. It's not the worst thing in the world the players don't have much time to think," said sporting director Jens Todt. "We need to shake ourselves down, keep our head up and go again against Gladbach." On Wednesday, recovery and video analysis was on the menu for the team. Gisdol is looking forward now. "We would have wanted more points at this point. Now we want to beat Gladbach to achieve 18. We need a near perfect performance on Friday," said the head coach at Wednesday's press conference.
HSV.de had another look at yesterday's game before giving an injury update and previewing the final game of the year.
On the game: It all started according to plan in HSV's second game in four days. Starting on the front foot, Kyriakos Papadopoulos headed the hosts into an early lead, glancing in a header from a Hunt corner with only nine minutes on the clock. There followed a lapse in attention on the Rothosen side and the second strongest away side in the league took full advantage. First Marius Wolfe then Mijat Gacinovic scored to turn the game on its head. Hamburg could even count themselves lucky not to be going into half-time further behind after Luka Jovic and Ante Rebic missed good opportunities for the Eagles. "We looked at that phase again using the video analysis. It was important for everyone to ask why that poor phase happened after such a good start. We scored the first goal and then looked like scoring a second pretty quickly. Only then it was Frankfurt who took advantage of mistakes on our side to equalise and then go ahead before we really realised what happened. That period cost us," said Gisdol.
And the Rothosen failed to score a goal in the second half despite a lot of chances. It was 20:10 shots on goal, 60:40 possession for the Rothosen, but again without anything to show for it. "It's very frustrating," reacted Dennis Diekmeier. Christian Mathenia and Jens Todt both echoed his words. Gisdol spoke in the same vein a day after the defeat. "We've played well for three halves, but come away with one point only. That's too little. We should at least have four."
On the squad: Albin Ekdal made his first lengthy return following injury and was a real asset in defensive midfield for Hamburg. "Albin is a brilliant player. We would have liked to play him for 90 minutes, but we need to build his fitness up," said Gisdol. The head coach is confident there won't be any further injuries ahead of Friday's match. "Today we focused on recovery and we'll assess once we start training again tomorrow." Only the two long-term injuries, Nicolai Müller and Bjarne Thoelke, are still out. "Of course we've missed Nicolai's goal threat. He was involved in almost all of our goals last year. He'll probably still be out till April."
Andre Hahn will be making his return to Gladbach on the weekend. The 27-year old has scored 27 times in the Bundesliga, but his progress this season was set back by an illness. "Now he's fit and physically stable. He should be an option for the end of the week," explained Gisdol.
The game ahead: Particularly in their tackling, the Rothosen need to be better and stronger. The last game of the calendar year is on Friday night away at Gladbach (KO 20:30 CET). The Foals are currently in sixth place in the table and have extremely strong attacking players with the likes of Lars Stindl, Thorgan Hazard and Raffael. Despite this, HSV's final opponent of 2017 are, in Markus Gisdol's eyes, vulnerable. "Obviously, Gladbach are a good side but they can be quite inconsistent. We want to win the game and get to 18 points. We need to put in a brilliant performance to do that, though."
With a convincing win on the road, yesterday's loss against Frankfurt would be forgotten and the series of three games in 6 days and 2017 would end on a high.