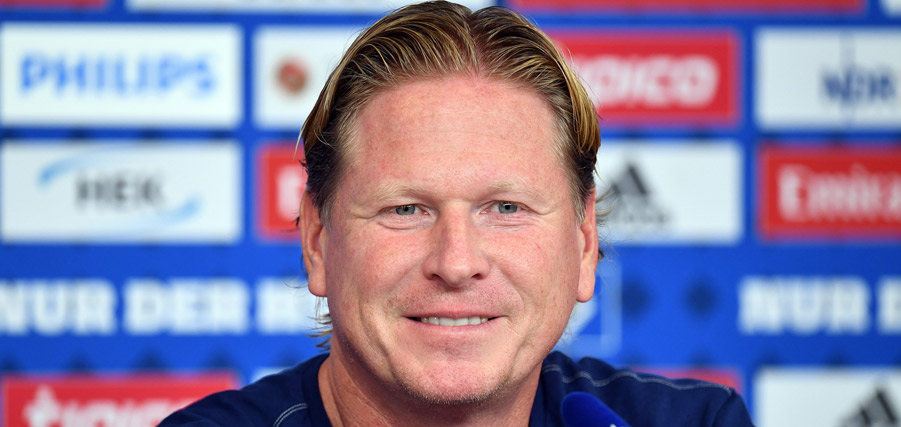 Press conference
26.10.17
"We need to push ourselves to the limit"
In the press conference before Saturday's away game against Hertha BSC (15:30 CEST kick-off), Markus Gisdol gave a squad update, spoke about the opponent's form and strikers Bobby Wood and Fiete Arp.
HSV are determined to end a four-match losing streak away to Hertha in Saturday's match in the capital. The game has come at a good time, as Hertha have only won one of their past twelve. "We want to exploit our opponent's rough patch. You can see they are in a period of uncertainty and we want to make the most of that," said Markus Gisdol. All the same, to achieve that, the head coach emphasized his team would have to push themselves to the limit, as in the Bayern fixture.
Markus Gisdol on…
… the squad: Bjarne Thoelke's injury is tough to take because he was just returning from another injury. He will be out until after the winter break. We will support him as best we can. Vasilije Janjicic has been training after his virus infection, but Gideon Jung is suspended. Otherwise, we have a full squad.
… Hertha BSC: I watched their cup match. The club has been in a very stable place for the past three to four years, but they're not in the best place at the moment. We're not going to try and talk them up. They look uncertain and are not at their best level, however we know from experience that this doesn't mean they won't show up on the weekend. We want to exploit their insecurity.
… HSV's form: The match against Hertha is completely different to that against Bayern. It's crucial to properly evaluate the game against the champions: we played well but didn't pick up any points. Now, we need to push ourselves to the limit to reward ourselves for strong performances.
… expectations: How many points we have is not the most important thing for me. The most important thing is how we play. Points come when you play well. There will be phases where you don't get points on the board and these impact on your confidence and on the team. We know we've picked up too few, but the primary thing is to put in a strong performance.
… Bobby Wood: Bobby works extremely hard and is trying his best to score goals. He asks a lot of questions and spends a lot of time using video analysis from past games. I'm sure he will find his form again. If I didn't have confidence with him, I wouldn't be playing him.
… Fiete Arp: We coordinated things with his school before he left for the World Cup. He should be able to complete four out of our five or six weekly training sessions. He's getting closer to the first team, but is pretty exhausted after the World Cup – the time difference, change in climate and all the minutes he put in have taken a toll. I will make a judgement whether it's worth taking him to Berlin. He remains a good option and it's exciting to watch his development.