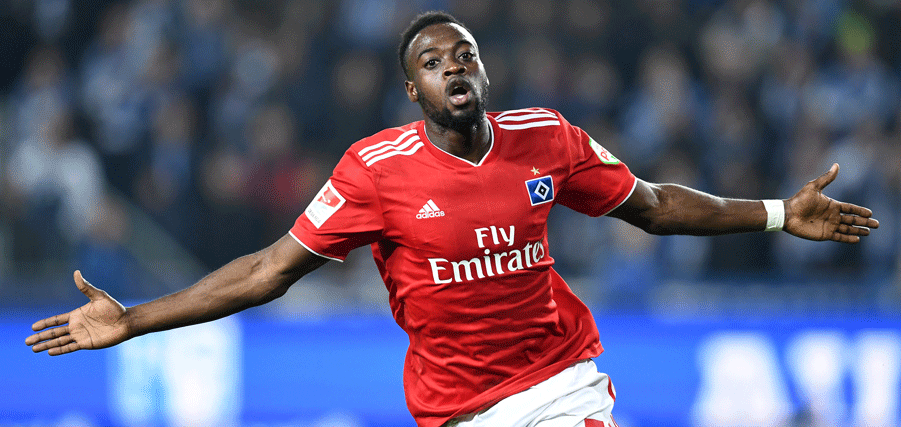 "We really wanted this win!"
HSV celebrated a narrow 1-0 win against 1. FC Magdeburg thanks to a late Khaled Narey strike. HSV.de rounds all up the important reaction to the win.
Pierre-Michel Lasogga: "I'm happy that the pass fell so kindly for Khaled. It was a really important win and it's brilliant that we can take all three points back to Hamburg. Of course you always expect a goal from a striker, but it's not so bad to give an assist instead. We're happy that we could end this week, which hasn't gone so well, on a positive note. I hope that we can keep moving things in a positive direction. Now we're concentrating completely on the match in Wiesbaden."
Khaled Narey: "We really wanted this win! We played well in the first half and created a few chances on goal. That was lacking in recent games, so it's progress for us. Unfortunately we didn't put them away and it got even harder after the red card. Magdeburg opened up a lot around our goal because they wanted to push for a winner. That gave me some space to score. Now we want to take that success into our home games and also start winning there."
Hannes Wolf: "I'm obviously very happy with the match. We needed a few minutes to grow in to the game. We needed to break free somewhat. Then we had three or four good moments where we could have scored. We used the space well. I was happy with the performance in the first half; all that was missing was a goal. In the second half we wanted to play with tempo and intensity. The game changed after the red card, which forced us into a few changes. It was fantastic how the team took responsibility and continued to attack. It was great for us that Khaled went up and scored. Huge compliments to the team."

Ralf Becker: "We played a really good game in the first and had our chances – then we suffered a red card straight after the break. But then ten-men did really well, continued to have possession and played some great football. I was really impressed by how we reacted and played after the last week, the way things have been going, in such a heated stadium, and with a man less. Huge compliments! The victory is absolutely deserved and has done us a lot of good after this week."
Jens Härtel: "HSV are deserved winners. We started well but then had some problems and not enough control in the game. However, we defended very well. Unfortunately, our transitional play wasn't so good. We came out much stronger in the second half and had a lot more possession after the red card. But it's frustrating to concede a goal like that against ten men. You saw in that moment how much quality HSV have in their ranks."