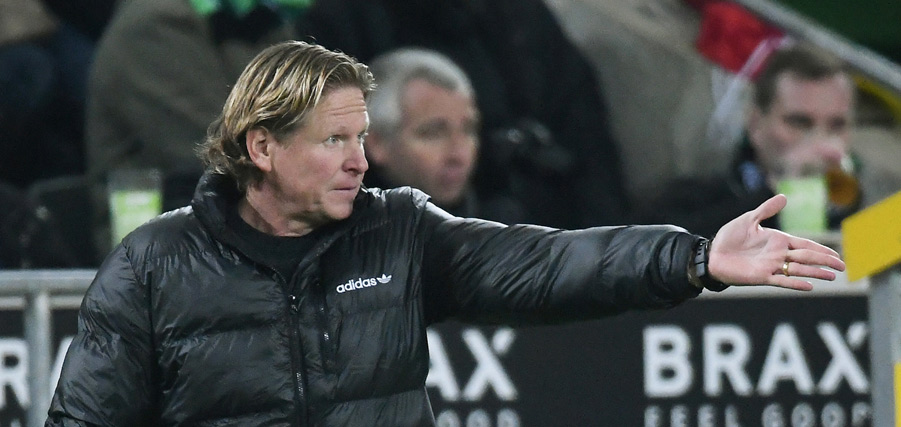 Post match reaction
15.12.17
"We throw away points again and again"
The disappointment was there to see on all the faces of all those responsible for the 3-1 loss. The coach had strong words after the game.
Not only were the players really frustrated, but so was Markus Gisdol after the 3-1 loss to Borussia Mönchengladbach. The simplest of errors led to the points being left behind in the Borussia-Park stadium. The game was a reflection of many in the first half of the season so far. A sleepy opening phase led to the Rothosen falling behind to an early goal (9'), but they fought their way back into the game and André Hahn scored a deserved equaliser (53') to cancel out the early deficit. The home team were invited to score on the counterattack through minor errors and Raffael scored a late brace (74', 79') to end the game 3-1 for Borussia.
Thus, the Rothosen are left empty-handed once more and remain low in the table. HSV.de provides you with the post-match reaction.
Christian Mathenia: Gladbach started the game with great intensity and didn't let their foot off the pedal. We gradually played better and better after the opening stages and conceding the early goal and scored a deserved equaliser in the second half. I repeat myself every week: we played well overall, but we haven't got any points to show for it. We're low in the table and now go into the winter break in that position. Now it's all about giving everything in all 90 minutes of every game to get the club out of this situation.
Aaron Hunt: It feels just as bad every week. I can't explain how we lost our grip on this game. We're just not ironing out the small individual mistakes. We had the game under control, particularly in the second half, but we gave it away. Our points total so far is way too little, but we have to accept the situation we're in how it is. There are a few things which we need to improve upon. We certainly need to iron out the individual errors. They hurt us today. We're not hopelessly dominated in any games, but we have to bring consistency into our game. The situation isn't comparable to last year. We're playing better and making more chances. Things will be close at the end of the season and we can only blame ourselves for it. We should have scored seven or eight more points so far, but we didn't.
Gotoku Sakai: We gave Gladbach too many chances after conceding the early goal and the equaliser. That was exactly what they wanted. We gave away the ball too easily and now we can't feel relaxed going into the winter break. However, it's important to remain close, to replenish our energy over the break and to come back fresh.
André Hahn: It's annoying to be heading home after a 3-1 loss. We had no chances in the first ten minutes. However, we threw ourselves at the match, we fought and improved. Then we invited them to shoot and when you give Gladbach chances like that, they have the quality to score. We need a few days now to go over that. We have to clear our thoughts over the winter break. We have the entire second half of the season to collect enough points.
Heribert Bruchhagen: An unexplainable error threw away a chance for us in a phase of the game when we were close to taking the lead. Phases like this are starting to feel a little too familiar this season, unfortunately. We have to and will work on that. I'm positive that we'll have a better second half to the season. We have home games against teams which we can pick up results against, but we need to actually deliver on that. We need more consistency; we definitely have the quality in our team. The boys showed their quality today in general, but we absolutely have to get rid of the mistakes.
Jens Todt: We showed how to psych up an opponent today. We conceded the second goal through a few errors and brought ourselves into danger as a result and it hurt. The reality is that we have 15 points from 17 games, which doesn't make for pleasant reading. We can only blame ourselves for the position we're in. We now have to clear our minds. The quality for the Bundesliga is there and I'm absolutely sure we'll get out of this position.
Markus Gisdol: Putting in a strong performance is all well and good, but it's not points. Gladbach were excellent in the opening ten minutes and then we improved considerably. However, like I've already said, I don't want to go over it again. We throw away points again and again – 15 points is simply not enough. We give away points through the simplest of errors and if we don't iron those out, it'll be scarily difficult to stay up. We praise ourselves, but internally I haven't done that for a long while. It really gets on my nerves that we've got nothing from the match.
Dieter Hecking: We started the game extremely well and scored a very well played-out goal. Then we were unlucky to be denied twice – by the post and the crossbar. We could have secured an early 2-0 lead, but we didn't and Hamburg found their way back into the game. Hazard should have made it 2-0, but we then conceded an equaliser from a counterattack. That was a setback we didn't want; we were too passive in that phase of the match. Unfortunately, that seems to happen to us a lot, which shows that we're developing. It was great how the boys made use of Hamburg's mistakes at the end to score our second and third goals. It was a really important match for us.