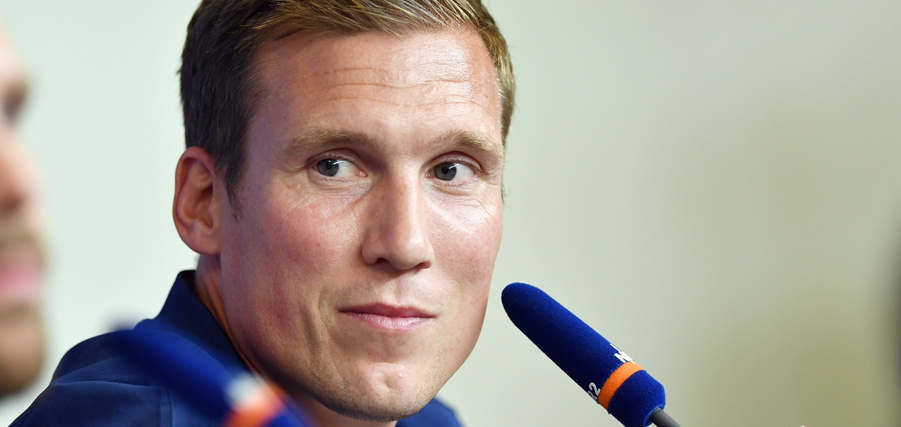 Press conference
10.02.19
"We want to dominate the game"
In the press conference ahead of the home game with SG Dynamo Dresden, Hannes Wolf discussed the personal situation, his expectations and the situation regarding Fiete Arp.
Hamburger SV will take on SG Dynamo Dresden on Monday evening (11/02) for the conclusion of Matchday 21 in the 2. Bundesliga. Die Rothosen have won two of their three matches in the second half of the season so far, meaning they have lost as many games as they did in the first half of the season. The 37-year-old stressed how eager his side is for the game: "There is obviously pressure on us to win our home games. We need wins and we need points." HSV started the season at home badly, but have recently turned it into somewhat of a fortress, not losing any of their last seven home encounters in all competitions. "We have dominated our last two home games against Sandhausen and Nürnberg and would like to do that again", said Wolf.
The head coach spoke about...
... the personnel situation: Pierre-Michel Lasogga, Gideon Jung und Douglas Santos are all back fit. Douglas had an infection but rejoined training today and his performance was good. He took set-pieces and as back to his normal standards. He still has a bit of time before the game. I'm certain that he will be able to play. Players have started games with less training behind them in the past.

... momentum after the cup win: We dominated the two home games against Sandhausen and Nürnberg and hope to do the same again. We want to press them again and play disciplined football. At the same time we want to put them under the pressure at the back. I hope that we can use the momentum from the last couple of games, which have given us some more confidence, even if we only just won those games.

... his expectations for the game: It's not easy to predict how Dresden will play as they had a number of injured players during the week. It felt like half their team was missing, so it's fair to say they had some personnel issues. Since the winter break they have used different systems and tactics. We are aware of all their variations and will do our best to dominate this home game. We can't allow counter attacks to happen, because they will come like every team and try to switch play quickly. Kone is a dangerous striker who has already scored nine goals. We will have to be aware of him.
... the whole situation: Regardless of who we play, there is always pressure on us to win at home. We have 14 games left and need wins and points. We don't need to look at what other teams are doing, as if we don't get any points then we won't be successful anyway. We don't have any time left. We have always said that we want to start the year well.
... the situation regarding Fiete Arp: I knew about his transfer before the media announced it. Fiete is dealing very well with the situation and hasn't done anything wrong. Since I arrived at the club his behaviour has been impeccable. He always gives 100% and has a great attitude, therefore he has the support of all us here. I can fully understand the move he will make. Fiete did so well at a young age and a door has opened for him. He still decided to stay at HSV and give everything for this club. This club means a lot to him and you can see that all the time. I hope that the fans recognise that tomorrow and don't boo or whistle him. He wouldn't have deserved that.
... Gideon Jung at right-back: We currently have a problem with defending set-pieces. I think almost two thirds of our goals conceded have come from these situations. We have missed Pierre every time he's been out due to his heading ability. Gideon would add more height to our team and if him and Pierre both played, we would have a team big enough for an average 2. Bundseliga side. His place in the team also depends on how we want to interpret the right-back position. Gideon would move into the space in the centre of midfield, where he can play. It would be a problem if we pushed Khaled back and he then played more centrally.
... the tactical style with Lasogga: We always try and use our players' abilities on the pitch. With hindsight nobody could have known how well Bakery Jatta would have worked as a striker in Bielefeld. Perhaps he could have had a couple more situations whereby he ran in behind more. Obviously it depends which players are on the pitch at any given time. When we have possession, Pierre is more of a typical deep-lying forward, who often comes from an offside position. Fiete has a different, but similar style in a way.