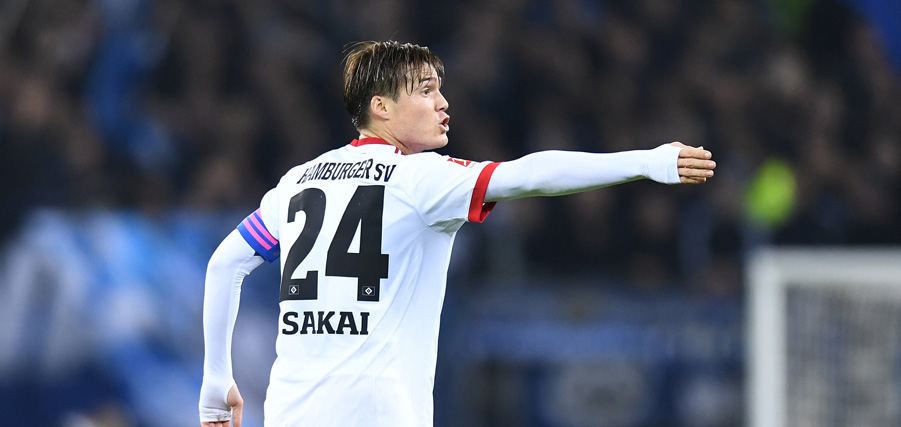 "WE WANT TO GET OUT THIS POSITION AS QUICKLY AS POSSIBLE"
HSV CAPTAIN GOTOKU SAKAI AND THE REST OF THE ROTHOSEN ARE STARTING 2018 WITH A CLEAR AIM. WORK TOWARDS ACHIEVING THIS GOAL WILL START IN THE NEXT FEW DAYS AS MARKUS GISDOL AND THE REST OF THE SQUAD UNDERGO INTENSIVE TRAINING IN JEREZ.
Gotoku Sakai's ending to 2017 was different to his new years of the past. For the first time, the 26-year-old Japanese was able to celebrate New Year in Germany and welcomed in the New Year with his teammate and countryman Tatsuya Ito. "We had a nice evening together and it was a great experience. I was a bit shocked by all the fireworks and rockets at first," said 'Go' with a smile. Other countries, other cultures.
"PUT IN A GOOD TRAINING CAMP"
The HSV captain is standing in the lounge of Helmut Schmidt Airport in Hamburg ahead of the journey to Jerez in Spain for the winter training camp. Despite the relatively short winter break and the early return to Bundesliga action, the defender is look at 2018 with a fresh outlook and has a clear plan for the new year: "We want to get out of this position as quickly as possible as a team." Sakai is of course referring to the 17th position which HSV currently find themselves in after defeat on the last Matchday of 2017, leaving them with 15 points from the Hinrunde. All of those above are well within reach and the team knows exactly what they must do, starting in Jerez: "We need to work hard for our goal and put in a good training camp. That will not be easy."
Faithful to his disposition, the captain wants to use good examples of the past and explains: "Every player has his own goals for the year and wants to become a better player. For me personally, I want to put in some better performances. I have not been satisfied with myself of late and I want to be more consistent. So I want to start working on myself." The versatile defender, who made 33 appearances last year and played 2,692 minutes for the Rothosen, including 13 sub appearances and 11 starts. The fact he can be deployed as a wing back or a central defensive midfielder is a chance and a risk at the same time as he looks for consistency. "For me personsonally it's always to switch between these positions. Mainly because you have so many different tasks in each role. I can be more offensive from midfield, but when I'm at the back I have to make sure I am protecting the backline a lot more. I would rather just play in one position, but at the end of the day I have to be there to help theteam. It doesn't matter in which position, I am going to give 100%."
BIG PERSONAL GOAL
As well the challenge of avoiding relegation from the Bundesliga in the second half of the season, there is another aim in the eyes of the Japanese which brings with it it's own motivation. This summer sees the 2018 World Cup take place in Russia, and "Go" doesn't just want to make sure he is in the Japanese squad for the tournament, but on the pitch as well – something which eluded him at the last World Cup in Brazil in 2014. "As a footballer you want to be make sure you play and therefore it's my biggest goal to be at the World Cup." The Japanese finds himself in competition for position with his namesake Hiroki Sakai. "As a winger I will have more of a chance, because we already have a lot of very good central defensive players," said "Go."
Irrespective of the position, though, what counts for the 26-year-old now is match time with HSV. To make Markus Gisdol sit up and take notice, Gotoku Sakai wants to impress in the pre-Ruckrunds training sessions. This began for Sakai and 26 other Rothosen on Tuesday morning, as the first training session of 2018 took place at Campos de futbol auf dem Barcelo Montecastillo Golf & Sports Resort.