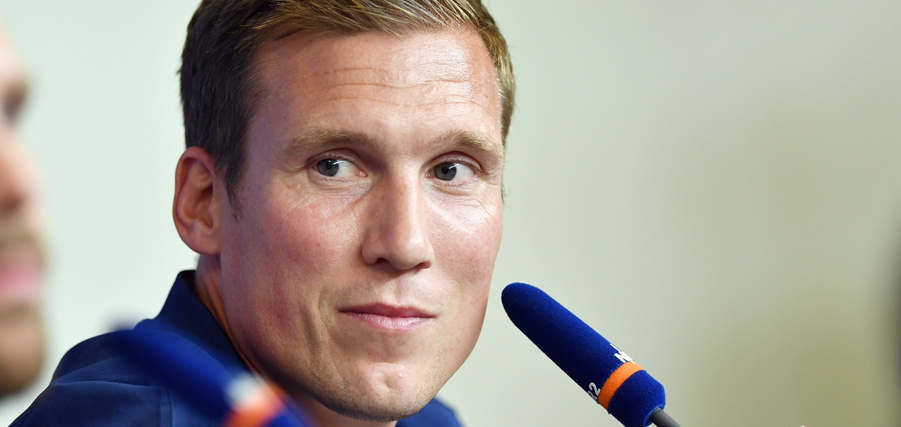 Press conference
21.12.18
"We want to keep proving ourselves"
Hannes Wolf spoke in the press conference ahead of the away game at Holstein Kiel about player availability, the upcoming opponent and whether the game should be considered a derby.
He comes across in a relaxed manner, in good spirits but still completely focused. Hannes Wolf has no doubt that HSV can end the season with a victory at Holstein Kiel on Sunday despite the great anticipation ahead of the game. Holstein Kiel are a very strong opponent who currently sit fifth in the table. Wolf stayed level headed in his press conference on Friday but sees the Storks as a dangerous outfit and he explains that Die Rothosen will need to once again perform to their very best in order to pick up another three points on the road. Wolf explains in today's press conference in what way and with what players he will try to get another win.
HSV's head coach speaks in detail about…
…player availability ahead of the game in Kiel: We have a few players struggling with muscle injuries. Léo Lacroix had to pull out of training but we will see how he is tomorrow. Vasilije Janjicic also has a problem with his knee. We are also waiting on Pierre-Michel Lasogga. He has been managing to do some sprints and shooting but we need to double check on him tomorrow. Hee-chan Hwang did not take part because of precautionary measures and everything is now fine with Fiete Arp who will be able to take part in full training tomorrow.
…the upcoming opponent: We are coming up against a team that likes to play good, attacking football and they are very dangerous going forward. The table is looking good at the moment but we want to get one last win to end the year. We need to defend well and be on top of our game to get a win in Kiel. The lads have got the desire to win and want to go there and get the three points.
…whether the game is seen as a derby: I come from the Ruhr area therefore I am used to having lots of teams in one area. We need to be on top of our game and keep proving that we are the team to catch in this league. We know we always have the backing of the HSV fans so the close distance to Kiel is not really a big factor for me. What is important is that we bring the three points back to Hamburg with us.
…comparisons to Kiel head coach Tim Walter: I cannot comment on this because I do not know much about the ways in which Tim Walter works. What I do know is that he has done a great job in Kiel but this game is about a battle of the two teams and not the managers.