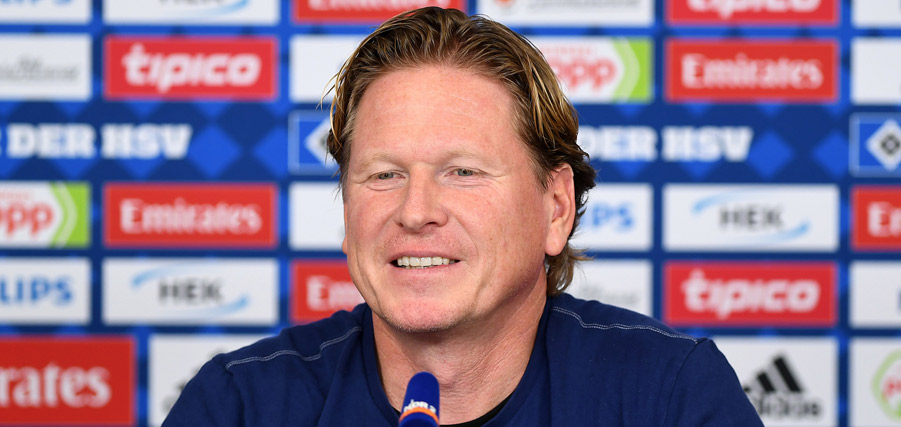 Press conference
07.12.17
"We want to secure the three points"
Markus Gisdol speaks ahead of the home game against Wolfsburg on memories from previous encounters with Wolfsburg, Luca Waldschmidt's form, Bobby Wood and targets ahead of the winter break.
There have been two home wins for HSV to celebrate recently; the Rothosen put three past both VfB Stuttgart (3-1) and TSG Hoffenheim (3-0). Now Markus Gisdol is hoping for a third successive home win against VfL Wolfsburg on 9th December (KO 15:30). "We want to secure the three points," he said in Thursday's (7th December) press conference. The Rothosen boss knows that it will be a tough task. Wolfsburg have become more consistent in recent weeks and have put in strong performances, he says. "It'll be an obstacle, but we're confident that we can win with a strong performance," said Gisdol. "Albin Ekdal and Lewis Holtby, who were both out with muscular injuries, and Luca Waldschmidt (virus) have all returned to training and will be available for the weekend fixture.
The head coach spoke in detail on...
...player availability: Albin Ekdal and Lewis Holtby have returned to training this week – initially with reduced intensity, then more. It appears that both are options. Ito and Santos are currently ill; sometimes that can become worse and sometimes it can disappear. We'll have to see if they're okay for the weekend. We'll have a better idea at training tonight.
...the season finale against Wolfsburg in May last season: We have great memories of that game. We managed our target on the final matchday, but that doesn't help us much this season. We have to be very alert; Wolfsburg have become much more consistent in recent weeks and picked up some solid results. They're a force to reckon with when they're playing at home.
...development in recent weeks: If you look at our performances beginning with the Stuttgart game, we've improved massively. We played excellently at home against Stuttgart and Hoffenheim and we also put in a really good performance against Schalke. In comparison, our level of football was somewhat worse in the match against Freiburg, but we picked up a point. It's always challenging to play Wolfsburg, but we're confident that we can win with a strong performance.
...Bobby Wood: I was by no means disappointed with his performances in the last two games. He worked hard and had chances; it's important he gets those chances. It's only a matter of time until he scores again. His place is up for grabs, just like every other position in the starting XI. There are still two more training sessions before the game gets underway.
...Luca Waldschmidt: We all wanted him to be carry on seamlessly after the last game of last season. He had a few injury problems, but is in great form at the moment. He's been very impressive in training recently. He was out injured against Freiburg, but He'll be back in the squad on Saturday.
...what to expect in the upcoming match: We want to deliver a good performance, which means we have to defend strongly. You always analyse your opponents and some prefer to play long balls against us to avoid our pressing, which is one of our strengths. Sometimes you change your ideas for an opponent, but we want to see our plan through.
…the target for the last three games of the year: There's only one goal at the moment – and that's to beat Wolfsburg on Saturday. After that, we'll turn our attention to the final two games. It's fantastic that we have 23 players fit this week at training. That shows that the team is in good shape and that we have the chance to make a few changes around the pitch. It's a good starting position going into the final three games.