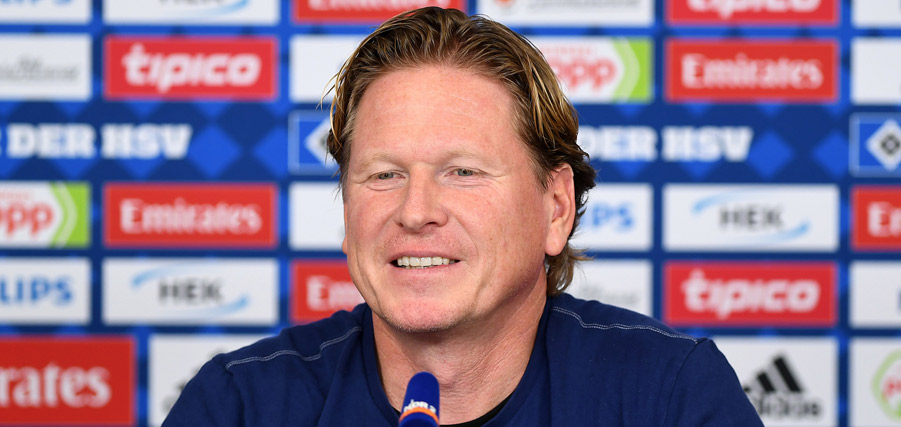 Press conference
02.11.17
"We want to use the home game to move forward"
In the press conference before the game against VfB Stuttgart, Markus Gisdol gave a squad update, talked about the development of the squad's youth and the preparation before Saturday's match.
Markus Gisdol signalled a different approach following the defeat in Berlin. "There are going to be changes. We are going to take responsibility," said Gisdol before Saturday's home game against Frankfurt on November 4th.It was more about tweaking the team here and there rather than a single, big change, the head coach explained. "We want to use the home game to get three points and move forward."
Markus Gisdol gave updates on…
… the squad: I'm sceptical about Sejad Salihovic. I think it's better we give him a few days to recover – maybe even into the international break so that he can come back in full fitness. Rick van Drongelen is returning from a long-term injury, so we need to be careful with him, but he trained with the team yesterday. Vasilije Janjicic has been back this week after his virus infection, but he's lost a lot of strength. We'll take a decision on him later.
… VfB Stuttgart: VfB is the biggest club in the region. A lot of my friends have been Stuttgart fans their whole lives. The club forms an important part of the area. I worked there myself for a couple of years ten years ago and it's always remained a special club for me; I'm very grateful for the experiences I had there.
… the game against VfB: When you're on a winless streak, you look to your home games to pick up three points. This is especially true when you come up against an opponent who is in a similar position to you in the league. We need to start turning the odds in our favour now.
… the youth: I don't want to give the youngsters too much responsibility too early, but having their carefree mentality and freshness in and around the team has been very positive. All the same, the established players must take the lead and be role models for the younger players. It's an important part of their progress, that our youngsters can train and work in the first team. We're being really careful not to put too much weight on their shoulders, but that doesn't mean they won't get game time.
… the form of established players: We have enough players performing at a good level. Of course, we are missing quality in some places, but it won't help anyone to single out individual players. Everyone is trying their hardest to achieve results and my experience tells me that sooner or later things will start to pay off.
... the build-up to the game: We've always allowed players to decide whether they want to spend the night in the team hotel or at home before the game. About half normally decide to sleep in the hotel. Tomorrow we will be going to the hotel after the final training session because I want to get the team together as early as possible on Saturday so as to go over some final points. Where we currently are in the league is not decisive for me.