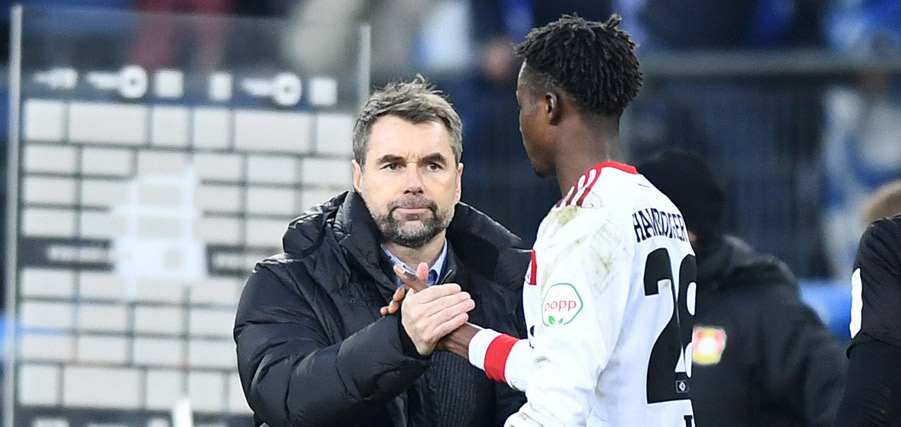 "We're not giving up"
HSV couldn't quite match the quality of a very strong Leverkusen side on Saturday afternoon, eventually losing 2-1. Read on for all the reaction to the game.
Heribert Bruchhagen: Leverkusen were the more composed side throughout the whole game. But we've also shown against Dortmund and Leipzig that we have the ability to be competitive when playing from behind. We have to start better so that games don't get out of our reach early on. Now, with games against Mainz and Bremen on the cards, we've got a couple of games against teams in a very similar position to ours. We have to win - there's nothing more to it. And we're not giving up, because to do so would be fatal. We had the support of the fans for 90 minutes today. To voice your displeasure in that way at the end of the game will not make things better. We know that the situation has only got harder after today's result. But we can't start blaming each other internally. That will not help anything. I still believe that we can survive. We're not giving up.
Jens Todt: This was a tough day for us, no question. The key point in the game was the second goal we conceded. That was our poorest phase of the game and we played with a real lack of fight. It was good to see the team play with more spirit thereafter and to get one back. We need to show that same fight in the next few weeks. We understand the disappointment of the fans completely, but we cannot and will not tolerate violence and threats.
Bernd Hollerbach: I have to say I was far from satisfied with how we played for the first 60 minutes. I'll talk about that with the boys tomorrow. We did not do what we had planned to at all out there. We were shy and didn't believe in ourselves at all and we were wasteful in the final third. We just weren't dedicated enough. It was clear that our situation has spurred some of these players on and just passed them by. That led to us condeding a very bad time and being behind at the break. Then all of a sudden at 2-0 we started looking more confident. We fought back after that and towards the end of the game we could have nicked a point. Overall though you have to say Leverkusen deserved their win.
Heiko Herrlich: We are very happy to travel home with the three points. It's been a while since we won in the Volksparkstadion and I think we thoroughly deserved the victory. We dominated for long spells in the first half and didn't leave anything to chance. Then we got the second goal early after half time, though we could have made more of our counter attack chances. We knew Hamburg would take risks and we were lucky at times. But as a team you still have to go and get the win sometimes. Particularly after last week against Hertha we're happy to have got the win. I wish Bernd and HSV all the best for the rest of the season.