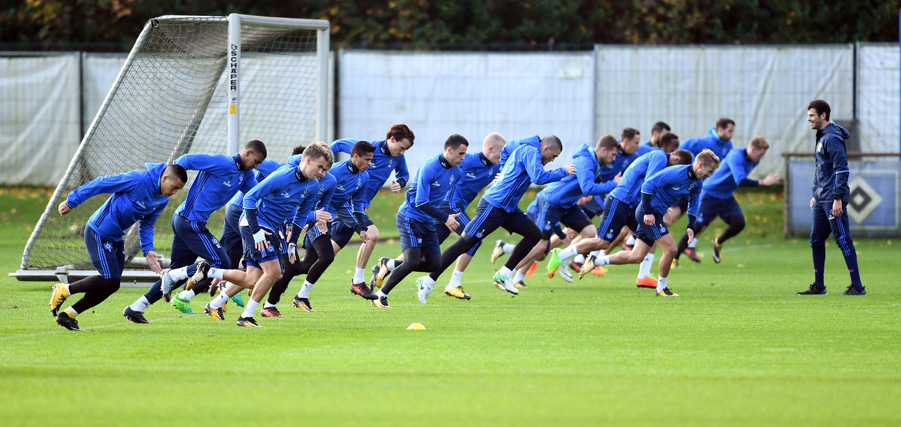 With drive and motivation into winter preparations
On the first day of the new year, Hamburger SV are setting off for their winter training camp. In the Spanish city of Jerez, the team has eight days to lay the foundations for a successful second half of the season.
The break was short, very short. There were only 16 days between HSV's last game of 2017 in Gladbach (3-1 loss) and the start of preparations for the rest of the 2017/18 season, which start today. At 15:15 CET, the Rothosen will travel to the Jerez in Spain, where they will set up camp in the Hotel Barceló Montecastillo Golf Resort. There, the boys will have until January 8th to warm up their engines. Because of the World Cup this summer, which will take place between June 14th and July 15th, the winter preparation period is shorter for all Bundesliga clubs this month. HSV have their first game of 2018 scheduled for January 13th (15:30 CET), as they face Augsburg away from home.
29 men on board
The Rothosen want to approach the upcoming week's work with a lot of intensity and concentration. A 29-man squad, including youngster and training camp debutant Patric Pfeiffer, and Nicolai Müller and Bjarne Thoelke, both of whom have been out injured for long spells, will travel with the team to try to demonstrate their readiness for starting places in the remaining 17 Bundesliga games. "In pre-season, the cards are always reshuffled. That's the attraction from the players' perspective, even if we have little time this year. Everyone has the chance to play themselves into the foreground," explained HSV head coach Markus Gisdol, looking ahead to the next few days of training. The objective for the short winter break and the upcoming second half of the season is clear: "15 points from the first half of the season were definitely too few. In the second half of the season, we have to add more to our total. We must stay concentrated for the whole 90 minutes. Every single player has to improve by a tick so individual mistakes don't happen."
As well as intense days of training, two friendlies await the Rothosen at their camp in Jerez. On January 4th, they will come up against Spanish first-division side Málaga (17:30 CET), and on the 7th, they will face a more familiar opponent in the shape of SC Freiburg (17:00 CET). Both encounters will take place at the Estadio Municipal de la Linea.