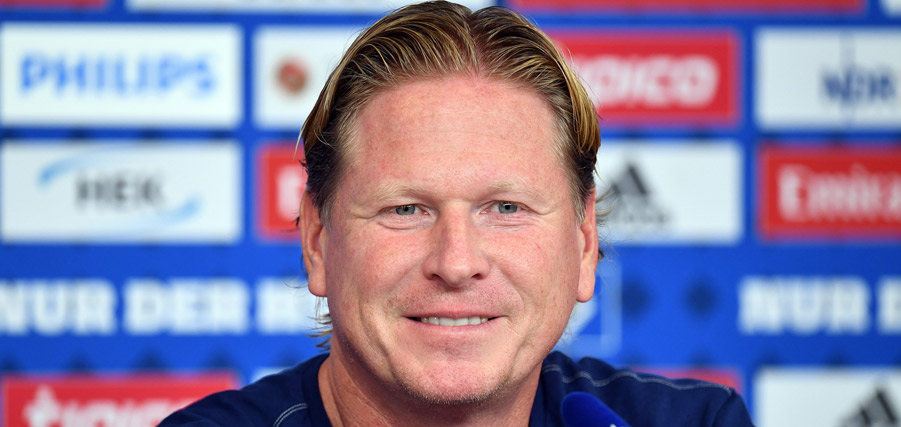 Press Conference
19.10.17
"You always have a chance"
In the press conference before the home game against Bayern on Saturday evening (18:30 CEST), head coach Markus Gisdol gave a squad update and spoke about the quality of the opposition, but reiterated the determination within the HSV squad.
On Saturday evening HSV host record champions Bayern Munich. It will be the 105th North-South derby, the famous encounter between the two biggest German cities after Berlin. The challenge is clear: Bayern are in hot form after hiring Jupp Heynckes for the fourth time, having swept past Celtic 3-0 at the Allianz Arena on Wednesday. "Celtic couldn't have complained if they'd lost 6-0 or 7-0. Bayern were very good," said Markus Gisdol. However, the head coach was quick to say his team wouldn't be overawed by the occasion. "You always have a chance – even against such a top quality opponent."
Markus Gisdol on…
… injuries: Vasilije Janjicic is in hospital because of a virus infection. Sejad Salihovic has a calf problem and is a doubt for the weekend. The squad is looking good and it's nice to see the long-term injuries making progress week by week. It puts us in good stead for matches to come.
… the quality of the opposition: It's the same feeling as when Ancelotti began. Bayern are enjoying playing football again. They played very well against Celtic and are a team in very good form. Of course, it's always difficult to compare teams on the European level, but they will definitely be a contender for the Champions League.
… HSV's chances: You always have something to lose and so I strongly resist saying that we have no chance. You always have a chance – even against Bayern. We've been close to taking points of other big teams so far this season. You never know what could happen if there's a great atmosphere in the stadium and the team is up for it.
…Bobby Wood: It's too easy to judge Bobby purely on his goals. Of course, it would be good if he'd scored more but he works incredibly hard for the team. He always gives everything. Maybe he's been lacking a bit of energy in decisive moments but everyone at the club is behind him and he too is doing everything he can.
… Ito and Kostic: Kostic is coming back from a long-term injury and Ito is building up physically. It's ideal to have two players for one position. We'll see who starts on the weekend.
… the determination in the team: We've been working closely together since day one and that hasn't changed. We have huge trust in one another. Players swap positions on the pitch, everyone is aware of where his team-mates are and what they are trying to do. I'm sure this challenge will strengthen the team and that we'll come through it together.
… the atmosphere in the city: Everyone knows the tricky situation we are in. There's no panic and everything is being dealt with calmly. I feel the strong connection between the team, our supporters and the city. That feels good. It's also good that no one is panicking or making a massive scene. A bit of realism is important.