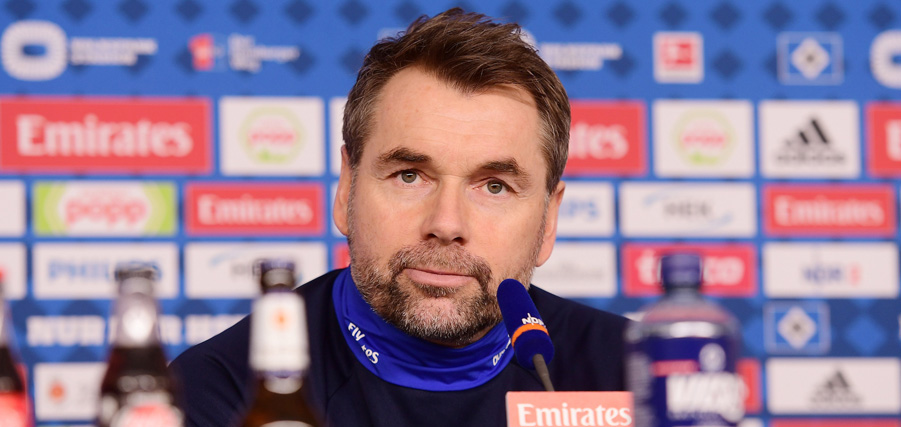 Press conference
08.02.18
"You always have a chance"
In the press conference ahead of the tough away trip to Borussia Dortmund, Bernd Hollerbach spoke about the current squad situation, the long winless streak and the atmosphere surrounding the club.
Over 8200 fans will travel to Dortmund to support the Rothosen on Sunday evening and sing at the top of their voices for their team. "I'm really pleased with how the fans continue to support us. Without them, we wouldn't have been able to get those draws against Leipzig and Hannover," emphasised Hollerbach. The head coach also talks about how important it is for his side to be solid in defence and not be afraid to go forward.
The 48-year-old spoke in detail about...
... the personnel situation: When we have two sessions per day, I like to give the older members of the squad a rest. So a few didn't train this morning, although they were back with us this afternoon. Lewis Holtby is ill, Papa did some fitness work at the Volkspark, while Gideon Jung was also there. He'll be another option for this weekend.
... the Walace situation: I've spoken with him, and I think it's right that he be allowed to fly to Brazil to be with his wife for the birth of his child. I'm in constant communication with him. Her due date is in 18 days, so we'll see how things go. It's not desperate yet. He is fully focused on HSV and will be there in Dortmund with the rest of the squad.
... Rodolfo Cardoso: I've known him for a long time. We played together at HSV. He's a proven expert and has worked in a lot of fields at the club. He knows football. I trust him absolutely and I'm really happy to be working with him.
... the opponents: It's clear that Dortmund are a big threat going forward. But I'll always say that everyone has a chance in every game. We have to be disciplined like we were in Leipzig, but still be ambitious going forward and calm when we have possession. It'll most likely play out in a similar way to the game in Leipzig.
... the long winless streak: What's done is done. I'm not interested in that anymore. I've been here for two weeks now, and we're undefeated in that time. The team has shown the ability to not give up and fight back after being down. That's the most important thing.
... the mood in and around the club: I've felt like things have been very positive since have been here. Thanks to my history at HSV, I know a lot of people at the club. I know how the fans are feeling. It's obvious that they're a bit tired of how things have been going in recent years. I have that feeling too. Whoever says that we have no support though, is completely wrong. We wouldn't have got points against Leipzig and Hannover without the support of the fans. I'm thrilled about that.