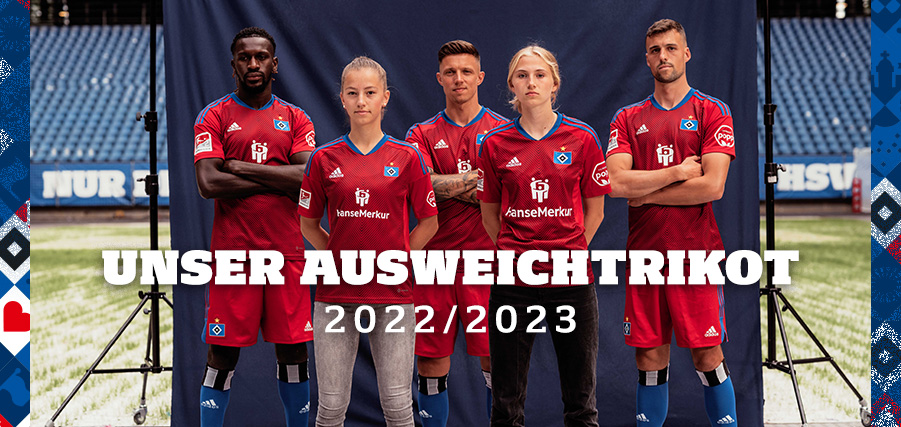 Our Youth. Our Values. Our Path.
Blue like HSV. Red like Hamburg. Strong together. The alternate jersey for the 2022/23 season stands for the Hamburger Weg.
Under the red and blue umbrella of its foundation "The Hamburg Way", HSV looks after the young talents of its home city of Hamburg. Together we tackle, together we help, together we achieve. Because together we are stronger. That is the Hamburg way. That's why, in keeping with the tried and tested 1-euro ticket donation, one euro is automatically donated to the HSV Foundation with every purchase of an away kit.
The HSV lives the way of cohesion and the promotion of young talent in solidarity with the people of its home town. Blue like HSV. Red like Hamburg. Strong together. This also applies to the new away kit, which features this colour combination to demonstrate the joint strength of Hamburg and HSV at away matches and special games.
The away jerseys for professionals and fans, which are made of 100 per cent recycled material, are convincing thanks to AEROREADY technology with optimum wearing comfort. In addition, this season there are matching trousers for both adults and children to go with the alternate jersey. The complete kit is now available for pre-order in the HSV online shop in sizes XS to 3XL and for children in sizes 116-164. Delivery and stationary sales in the HSV fan shops are expected to take place in mid-October for adult jerseys, at the end of October for children's jerseys and at the beginning of November for the trousers.

Click Here to go straight to the HSV Alternative Kit.