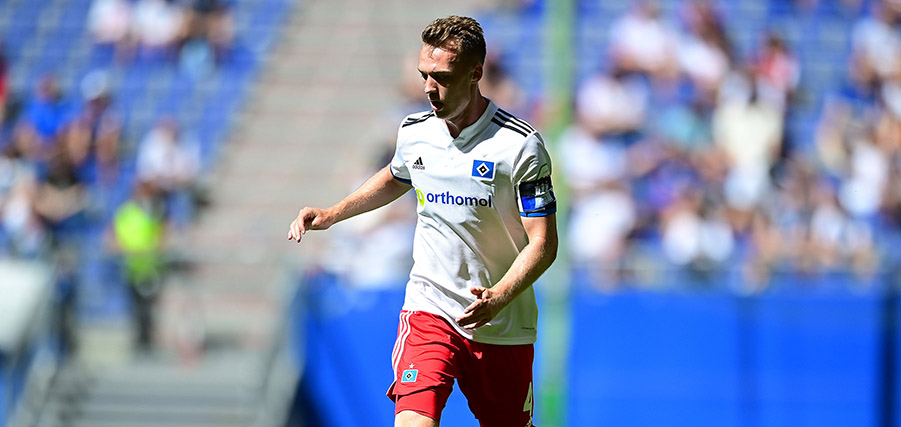 Sebastian Schonlau becomes new HSV captain
The 26-year-old newcomer from SC Paderborn takes over the armband from Tim Leibold, who will remain on the five-man team council.
Ahead of the 2021/22 season, head coach Tim Walter has appointed Sebastian Schonlau captain of Hamburger SV. The 26-year-old arrived at HSV this summer from SC Paderborn, whom he also captained last season. Schonlau donned the armband for the first time in Saturday's 1-0 friendly victory against FC Basel. "It was a tough decision because Sebastian Schonlau and Tim Leibold are both players who will play a big role in driving us forward, while also taking responsibility with the team council. In order to change things up a little, I've opted to make Bascho captain. Both players remain central members of the team," explained Tim Walter. Schonlau will be supported for the upcoming league season by Tim Leibold, who will fill the position of vice-captain. Jonas Meffert, Jonas David and Tom Mickel complete the five-man team council.
"It is an honour to appointed captain of HSV and to lead the team out onto the pitch. From my point of view, the tasks associated with the office go far beyond the final whistle. With the help of Leibe and the team council, we hope to make good progress this season," said Sebastian Schonlau. Speaking after captaining the Rothosen last season, Tim Leibold explained: "I proudly wore the armband last season. Now it's a case of embracing my role as vice-captain and taking responsibility together with Bascho. We both always want the maximum and will push to achieve it along with the entire team council."