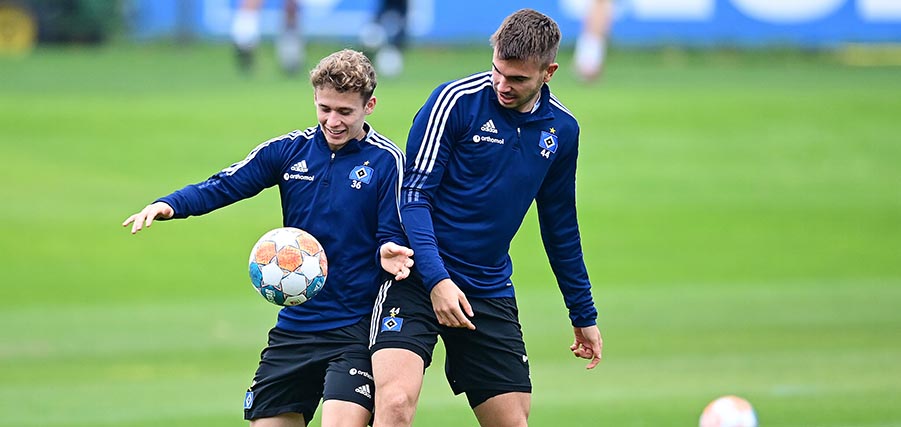 Suhonen vs. Vuskovic: HSV duel on International Stage
A truly special match awaits Finland's Anssi Suhonen and Croatia's Mario Vuskovic this Tuesday evening: the two teammates will meet as opponents in the U21 international match.
Admittedly, in football there is often talk of a "special" match. It is a term that has become inflationary in sports reporting these days, so that even everyday matches are hyped up to be "special". But when Mario Vuskovic and Anssi Suhonen meet this Tuesday evening as part of the qualifying campaign for the 2023 European Under-21 Championship in Georgia and Romania, the encounter will not be ordinary, but truly special.
Playing for their own country - Vuskovic for Croatia, Suhonen for Finland - is something special in itself, but to meet a team-mate in an international match is a rarity. The anticipation of the two HSV players is accordingly great. "We've been looking forward to this game for weeks. I kept telling Mario in the dressing room: 'Another 30 days..., another 20 days..., another 10 days..., ...then we'll play against each other,'" Suhonen, who joined HSV's youth team in 2017 and moved up to the professional squad for the current season, explained via voice message. "That's true. We have joked about who will win this game on a daily basis, it felt like. Tonight we have certainty," Vuskovic, who joined HSV on loan from Hajduk Split last summer and was recently signed permanently until 2025, agreed with him with a laugh.
"It's always fun when the opponent has a familiar face" Anssi Suhonen
The role of the favourites in the duel between the robust central defender from the Balkans and the lively winger from Scandinavia is clearly distributed: Croatia are clearly leading Group A with 19 points after seven matchdays, Finland are "only" in fourth place with one match less and ten points on their account. "I expect a difficult game because the Finns have nothing to lose and will give it their all. Nevertheless, we have the better team and want to finish the qualification as first in the group. If we go into the game with the right motivation and concentration, we will succeed," said the 20-year-old confidently. Suhonen, who already lost 2-0 in the first leg without his club colleague on the other side and, to make matters worse, received a red card in injury time, is once again comfortable with the role of the underdog. "Croatia have not lost a qualifying match yet. It will be a tough game, but one I'm looking forward to. It's always fun when your opponent has a familiar face," says the 21-year-old.
The duel between Vuskovic and Suhonen will take place tonight at 6 pm CET in Varazdin in northern Croatia. For 90 minutes, the two teammates will be opponents - a special game.