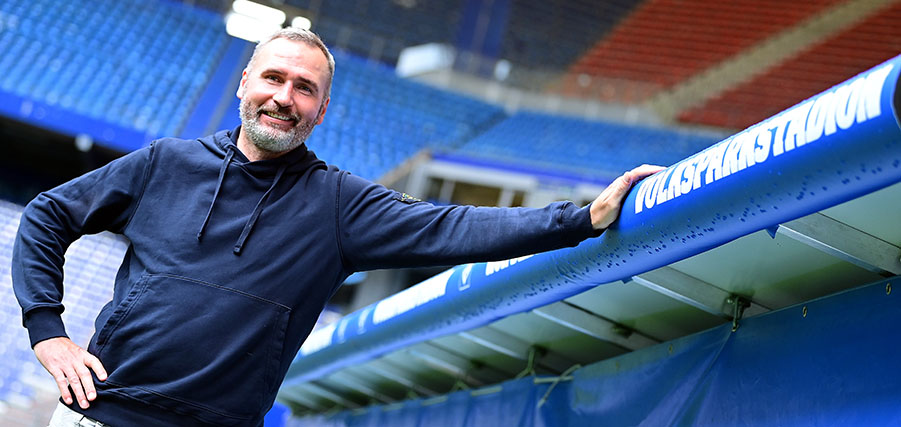 This is Tim Walter
HSV's new head coach is a proponent of possession-based football and decisive players who can make a difference in games.
Who is Tim Walter? Most fans will remember the new HSV head coach from his previous stints at VfB Stuttgart (1st July to 23rd December 2019) and Holstein Kiel (1st July 2018 to 30th June 2019). But, the 45-year-old's resumé includes several other interesting stops. Tim Laszlo Walter, now a married father of three, was born on 8th November 1975 in Bruchsal, and grew up in Stutensee in Karlsruhe. He studied sport science in Karlsruhe and later began working at a football school there.
He first drew attention as an academy coach at Karlsruher SC. Walter spent 10 years at the club, coaching both the U17s (2013/14) and U19s (2014/15). He reached the semi-finals of the U19 Bundesliga play-offs with KSC, catching the eye of FC Bayern München who then signed him to work with their academy players.
U17 Bundesliga champion with Bayern - successful time in Kiel
Walter continued his successful work with Germany's record champions, taking over as head coach of the U17s (1st July 2015 to 30th June 2017). He won the U17 Bundesliga with the team in 2017, before taking over as head coach of the reserves (1st July 2017 to 30th June 2018). Walter then took his first job as a professional head coach with second-division Holstein Kiel. In what was HSV's first season in Bundesliga 2, the Rothosen lost both games against Walter's Kiel side (3-0 and 3-1). He then made the move to VfB Stuttgart in summer 2019, where he remained until December that same year. The club then parted ways with Walter, with the team sitting in third place - the first time in his career that he was prematurely dismissed from his duties.
Anyone who knows Tim Walter's philosophy and style of play from his previous coaching jobs, will recognise why HSV had him on their radar. "I try to focus on attack," Walter told 11Freunde in 2019, adding that possession-based football is his preferred style of play. In doing so, he prefers decisive players, who can have an impact on the game. Walter enjoys playing dominant and attractive football. However, this attacking focus doesn't mean that he places any less importance on defensive shape. "It's impossible for the attack to function, if the defence isn't solid," he said recently in an interview with Socrates. He emphasises the individual development of players, as well as the team's technical ability.
360-degree insights and continued development
Since leaving Stuttgart, Walter has taken the time to reflect and to continue his development. He spoke with former players in order to obtain feedback on his coaching style, observed training sessions led by other coaches at both the men's and youth levels and also spoke with members of the media in order to better understand their perceptions. "I was keen to get a 360-degree view of what was happening," Walter told Socrates. This also included continuing his development from a coaching perspective. Walter analysed countless Gegenpressing situations and sought to find the most effective deep runs and passing lanes to develop the appropriate training sessions. The insights he has been able to gain will surely feature when he takes charge of his first training sessions with HSV in June.