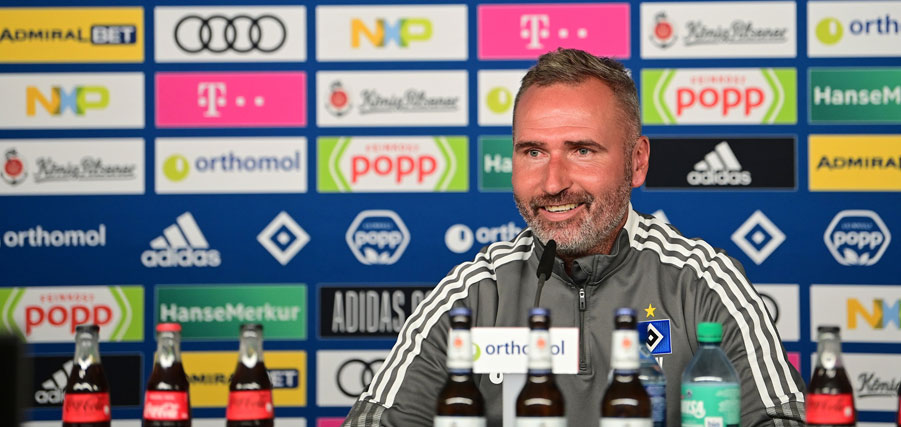 Press Conference
18.11.21
Tim Walter: "We know exactly what is important against Jahn".
In the press conference before the home match against SSV Jahn Regensburg, HSV head coach Tim Walter spoke about the shortage in the defence, the strengths of the upcoming opponent and the latest Corona developments.
These are eventful weeks for Tim Walter. Ten days ago (8 November), the HSV head coach celebrated his 46th birthday, and in the course of the international break, which has now ended, a number of personnel shortages emerged. The coach will have to do without his regular keeper Daniel Heuer Fernandes in the coming weeks, and centre-back Jonas David, who has not missed a single minute of a match so far, will be out for the time being with a torn muscle fibre. Nevertheless, the coach emphasised in today's press conference that the squad's depth is absolutely sufficient to hold its own against SSV Jahn Regensburg (currently in second place), who have made a strong start to the season. A home win against the Obenpfälzer side on Saturday (20 November, kick-off: 13:30 CEST) would certainly be a belated birthday present that would round off the eventful weeks in a positive way.

The 46-year-old coach spoke in detail about...

... the personnel situation in the defence: "It is obvious that we have a bottleneck there, but there is still enough choice in the positions. I already said at the beginning of the season that we would need all the players in the squad. That's why we've always trained accordingly, and that's why we can now use all the players who were perhaps a little behind in the past with a clear conscience. Exactly how we're going to do it against Regensburg hasn't been decided yet.
"The existing basic structure of the Jahn Regensburg squad will definitely help us to be successful in this league."

... the upcoming opponent: "Jahn has a team that has been playing together in this constellation for a long time and has been strengthened more and more in individual cases. The basic structure of the team definitely helps in this league. On the offensive side, they have brawny strikers who can lay balls off and thus make long-distance shots possible. So we know exactly what it takes to counter those qualities. The crucial thing will be for my team to push the envelope again.

... the Corona developments: Of course, we would like to be able to continue playing in front of many spectators. For that, it is crucial that we act as role models in terms of the Corona measures. That is exactly what we are doing, wearing masks in the designated areas and taking the tests. Unfortunately, we cannot ultimately influence the situation, we can only make our contribution.