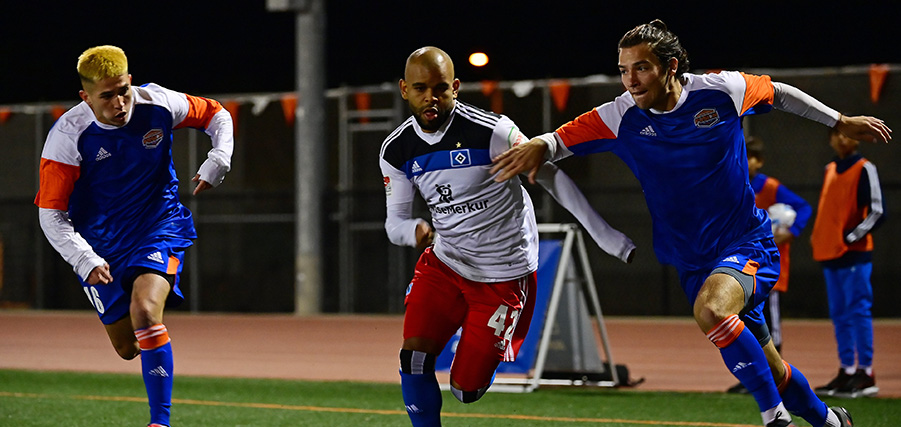 USA tour: 7:0 friendly match win against VC Fusion.
Bilbija, Amaechi, Sanne, Glatzel and Dompe scored against the fourth league team from Ventura and gave the team a free day of training.
HSV won the second friendly match of their USA tour on Friday evening (19 November). The team won 7:0 (2:0) against the Ventura Club Fusion. Filip Bilbija (16th), Xavier Amaechi (19th), Tom Sanne (72nd), Jean-Luc Dompe (87th) and Robert Glatzel with a Hatrick scored the goals for the visitors from Germany.
Three days after the 1-0 win against Orange County Soccer Club (OCSC), Tim Walter gave the youngsters in the HSV squad a chance to show themselves against Ventura, a team from the National Independent Soccer Association, the fourth division in the USA. Tom Sanne (18), Bent Andresen (19) and Valon Zumberi (19), three of HSV's own youngsters who celebrated their professional debut in the 2. Bundesliga this season, were in the starting eleven.
They had to adjust to some unfamiliar circumstances at the college facility in Ventura. For one thing, the game took place on artificial turf, and for another, the stadium is primarily intended for American football, so there were yardage markings all over the field and the touchdown zone was also painted on the field just before the baseline. This, however, did not bother the Red Shorts who had travelled almost three hours to the game. Filip Bilbija put Hamburg in front after just 16 minutes, and Xavier Amaechi followed up with a 2-0 lead just three minutes later (19th), which was also the half-time score.
Dompe scores against spinning
Five more regulars came into the game for the second period with Robert Glatzel, Jonas Meffert, Jean-Luc Dompe, Miro Muheim and Ransford Königsdörffer. The balance of power on the court became even clearer. The Reds let the young college footballers run a lot. Just like in the first half, Mattheo Raab spent a very quiet evening. The coach also gave out an extra incentive: If the team scored five goals in the second half, the strength and spinning session would be cancelled tomorrow.
And his team delivered accordingly. Tom Sanne (72nd), Robert Glatzel with a hatrick and finally Jean-Luc Dompe (87th) scored the goals that gave the team a morning off. The jubilation at the last goal was correspondingly high: Dompe sat down on the ground and cycled with his legs in the air. A successful conclusion to the last sporting appearance in the USA.

Match Summary:
VC Fusion: Wilson - Shockey. Strong, Salazar (56.Mercado), Wood - Oberli, Smith-Hastie (79.Navarro), Samara (56.Conteh) - Lomeli (63.Fletcher), Villapando (63.Armendariz), McBride (79.Lobato)
Hamburger SV: Raab - Mickelbrencis, Zumberi, David (46.Königsdörffer), Andresen - Schonlau (46.Meffert), Reis (46.Muheim), Bilbija (46.Glatzel) - Heil (46.Dompe), Sanne, Amaechi
Goals: 0:1 Bilbija (16.), 0:2 Amaechi (19.), 0:3 Glatzel (58), 0:4 Glatzel (64.), 0:5 Sanne (72.), 0:6 Glatzel (83.), 0:7 Dompe (87.)
Attendance: 800
Gelbe Karte: Smith-Hastie / -