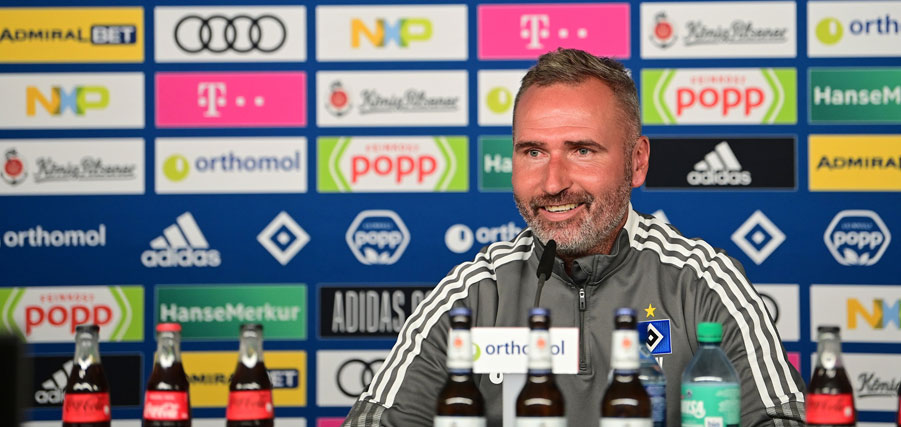 Press Conference
28.10.21
Walter: "Our senses are sharpened".
In the press conference before the home match against Holstein Kiel, HSV head coach Tim Walter spoke about the overall balance against KSV, which can be improved, the injury to Tim Leibold and the risks of the bold game idea.
Even though his time at the Förde ended after just one successful year (6th place), Tim Walter looks back on his time as head coach of Holstein Kiel (2018/19 season) with an emotional approach: "The club gave me the chance to establish myself in professional football. That's why I owe KSV a great debt of gratitude," said the 45-year-old HSV coach about the northern lights of the 2. Bundesliga, who are guests at the Volksparkstadion next Saturday (30 October, kick-off: 20.30). The Schleswig-Holstein side have an almost flawless second division record in games against HSV (two wins, four draws) and a new head coach in their baggage. Marcel Rapp (42), whom Walter knows from his youth days, took the helm around four weeks ago and will be aiming for maximum success on the Elbe with his charges. What the Reds want to do about it, how the left-back position is to be filled after Tim Leibold's serious injury and what thoughts are going through the coach's head about his game idea, he shared in his usual analytical manner in today's digital press conference.
The HSV head coach spoke in detail about...
... the 2.Liga record against Kiel, which could be improved: "So far, I've always been on the other side, so I've had two wins in this duel. Now we'll just turn the tables. (laughs) We know what we can do, but at the same time we also know that Kiel will be dangerous. So our senses are sharpened. The fans in the stadium can give us a boost and play their part in a home win.
"We will miss Tim Leibold a lot, as we appreciate him not only as a footballer but also as a person"
... Tim Leibold's injury:"Yesterday he had some examinations, in between we spoke on the phone for a while. Today he was back in the stadium and was built up by his teammates. Everyone who knows Leibe also knows that he is a cheerful person and always approaches things very optimistically. We will miss that a lot in the near future, because we appreciate him not only as a footballer but also as a person. Of course, Miro Muheim would be a good replacement, although there are other alternatives. A right-footer can also play the position.
... the risks of the courageous game idea: We are the team that stands most compactly and allows very little. If outsiders think that we are particularly vulnerable on the counterattack, then that is a false perception. Of course, we have the ambition to improve in some areas, especially the exploitation of goal chances. But against the ball, every player makes the important moves and that makes me very happy. Counterattacks happen to the best teams in the world. If we could always prevent that, we would be an absolute exception.