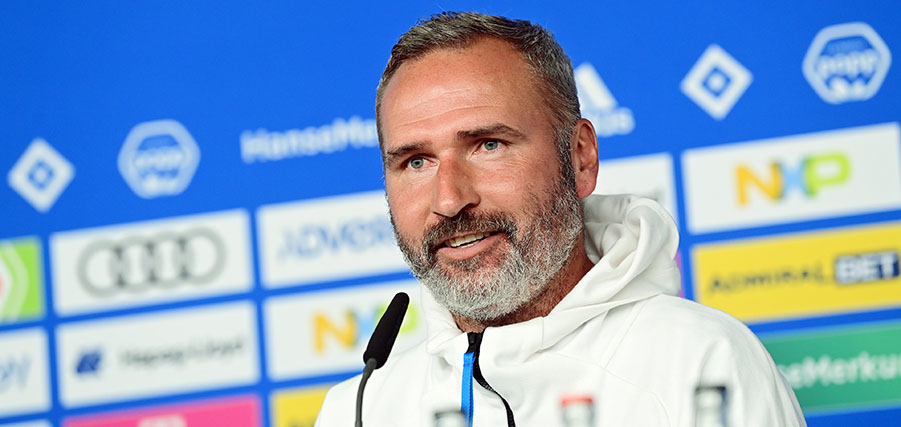 Press Conference
25.08.22
"We have the potential"
HSV coach Tim Walter spoke at the press conference on Thursday about the upcoming away game at 1. FC Nürnberg as well as the Rothosen personnel situation.
Tim Walter looked relaxed and at ease when he entered the press conference room at the Volksparkstadion on Thursday (25 August). The coach answered the journalists' questions about the upcoming away game at 1. FC Nürnberg, which kicks off on Saturday at 8.30 pm at the Max Morlock Stadium in Nürnberg. It will be the fourth away game of the season for HSV - including the DFB Pokal - and so far the Red Shorts have won all their games away from home. A good omen for Saturday? "Football would be so simple if the opponent didn't always make it so complicated," joked the coach, who answered journalists' questions for a quarter of an hour. Among other things, Walter talked about...
... the personnel situation: Xavier Amaechi and Anssi Suhonen are on a good way, they work a lot with rehab coach Sebastian Capel, but it will still take a while. Miro Muheim had to take two days off due to a lumbago, but he is back at full strength and ready for action.
"Of course, we are also looking at the opponent, but primarily at ourselves"
... the absence of the suspended Ransford Königsdörffer: "Of course it's a pity that Ransford is out, I'm very sorry, especially for him. But no one is irreplaceable in our team, we can absorb that together. It could be that we change positions, but there could also be a tactical adjustment. We have the potential to do that, so that's also an option.
... the approach to the game: Of course, we also look at the opponent, but primarily at ourselves. We didn't do a few things well against Darmstadt, and when you make mistakes, you concede goals. We want to stop that, we want to make it more difficult for the opponents to score against us. The team has shown a lot of willingness this week and has trained very well. We are well prepared.