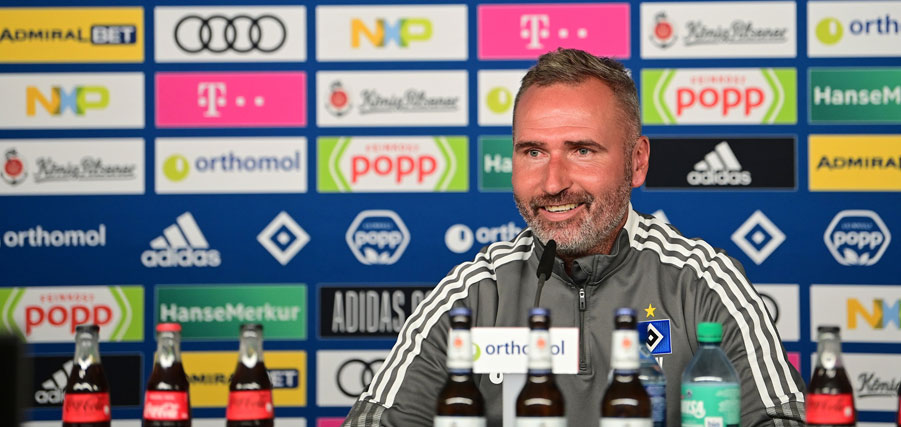 Press Conference
26.08.21
"... we have to accept that".
In the press conference before the Rothosen's away match at 1. FC Heidenheim, head coach Tim Walter spoke about the strengths of the upcoming opponent, his own style of play and the release of Toni Leistner.
One point from the past two competitive games has not made Tim Walter happy either. Nevertheless, the HSV head coach was optimistic in today's press conference and in a fighting manner set out the route that his team should take next Saturday in Heidenheim (28 August, kick-off: 13.30). In the Voith Arena, the match will again be competitive and evenly balanced, which is why Coach Walter has a correspondingly intensive approach in mind. How this should look in detail, which personnel is available for this and why the 1st FCH is particularly dangerous, the football teacher explained today in his usual lively manner.
The 45-year-old spoke in detail about...
... the release of Toni Leistner: I said from the beginning that we need all the players and that I trust my squad because we have a very long season. Of course I can understand it if a player is not happy with his role. Nevertheless, the player is then part of a team and has to lead the way in training with verve and by setting an example. But if he is not happy with the constellation, then you have to sit down together. I fully go along with the path that the club and those in charge have taken.
"The positions have to be filled up again quickly so that we are not so susceptible to counterattacks"
... the upcoming opponent: Heidenheim paid a handsome transfer fee for Tim Kleindienst, so the club is not so small anymore. With Frank Schmidt as head coach, they have an institution who has played a big part in their success. They stand for intensive football, a lot of willingness to run and a lot of heart and soul. That's why it will be a very even game, as always in this league.
... our own style of play: Of course we have to verify our game. The positions have to be filled more quickly so that we are not so susceptible to counterattacks. We have analysed that quite clearly. Basically, I believe that the opponents will continue to lurk around for switching actions. We have to accept that game. But that's why we're going there, because we want to develop further. We want to get rid of the things we're not doing so well at the moment.
You can see the complete press conference (German Only) here in the video or as a re-live on YouTube.