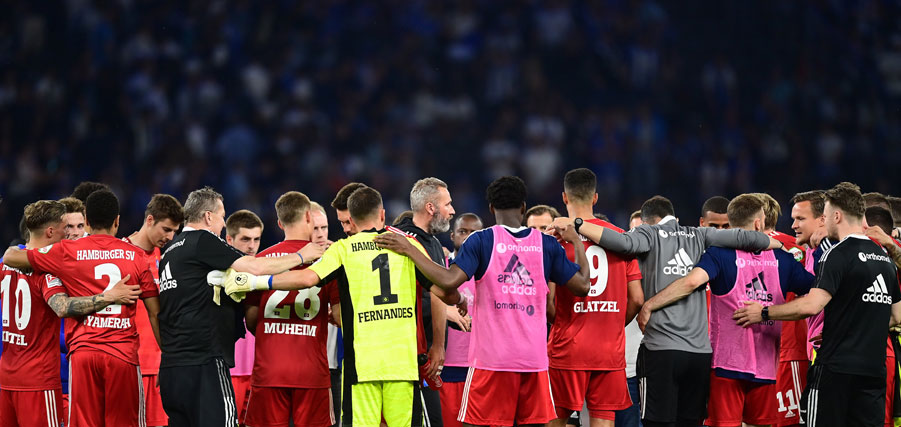 Voice's from the game
19.05.22
"We'll continue on Monday!"
Hamburger SV wins the first leg of the relegation play-off at Hertha BSC 1-0. The Protagonists were correspondingly happy after the final whistle and at the same time focused on the second leg.
How do you behave after a commanding 1-0 away win at Bundesliga side Hertha BSC when 20,000 HSV fans in Berlin's Olympiastadion are completely beside themselves and at the same time the equally important relegation second leg at home in the Volksparkstadion is coming up next Monday evening? This was the question facing the HSV professionals on Thursday evening after the final whistle of the relegation first leg, which they had deservedly won with a goal from Ludovit Reis (57th). The HSV pros found just the right answer, sticking to themselves, their game and their way as they had done earlier in the 90 minutes. So there was a proportionate jubilation with the outstanding supporters and afterwards the focus was on the second leg, as the voices on the match underline.
Ludovit Reis: A goal is a goal. It doesn't matter how I scored it. It was a great feeling on the pitch. We were there from the start. That's important when you play away. It was an important win. It was a good step, but we still have another game. We have to stay with ourselves. We have to keep the focus high for the next game. It's on Monday!
Sebastian Schonlau: It's nice that we won today. But on Monday we have to start again. We have to do everything we can to win the game. There is still a game to play. There is no scenario where we can just stop. Nothing has been achieved yet. The support was really impressive today. I didn't know in the meantime if we wouldn't play in Hamburg.
Daniel Heuer Fernandes: The atmosphere was outstanding. We feel this support from the fans, which makes us even stronger and better as a team. Today we were able to make the fans a little bit proud with our performance. We want to continue on our way now. In the first half, we were a little bit sluggish, but in the second half, we played our game to the full. But it's only half-time. We're sticking to ourselves and now we want to win the second part as well.
Maximilian Rohr: For the team and also for me individually, this is of course insane. I only knew at relatively short notice that I was in the starting eleven. That wasn't wrong at all, because I didn't have much time to think about it. We played our game again, even against a Bundesliga team. We could have shifted it better in the first half, then rewarded ourselves in the second half, even if it was a lucky goal.
Tim Walter: We are enjoying it today. We are happy that we could come here and we are looking forward to the next game. We want to take this euphoria with us. We are the youngest team in the 2nd Division and then to come through like this here in Berlin is worthy of all honour. We called for a new beginning before the season and it needs patience. We have taken our development in stride. Our boys always fought back, were always convinced and always brave. We saw that today as well. In the first half, we lacked a bit of courage, but we did better in the second half. We are looking forward to the second game because we enjoy such games. That's what I told the team and that's how we'll approach Monday. We stay with ourselves. We have respect for everyone. We will continue to do that in the future.
Felix Magath: I saw a very intense and good game. It was very competitive and fast and relatively even. Then there was a situation where the opponent scored a lucky goal. In the following period, we tried to equalise the lead, but didn't find a line. We didn't determine the game, but tried to equalise with individual actions. So we have to wait for Monday and improve there. Today, HSV was the luckier team.