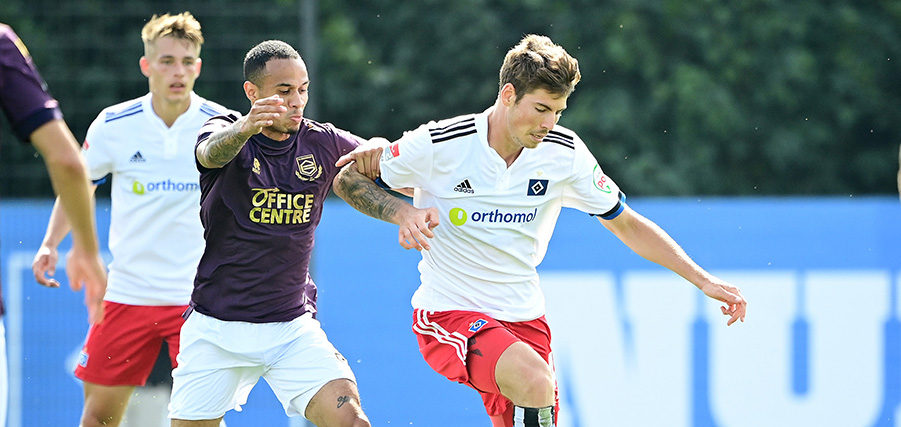 3:1 - HSV wins friendly over FC Groningen
Manuel Wintzheimer (1.), Sonny Kittel (54. FE) and Robert Glatzel (75.) scored for the Red Shorts. Groningen's captain Mo El Hankouri (26., FE) equalised for the visitors.
Hamburger SV won their friendly against FC Groningen on Wednesday afternoon (1 September). In the duel with the Eredivisie's tenth-placed team, the Red Shorts won 3:1 (1:1). Head coach Tim Walter used the test, which took place at HSV's training ground and was closed to the public, to give his squad players, who had been reduced by several junior internationals and supplemented by junior players, plenty of match practice.
Among them was newcomer Marko Johansson, who celebrated his HSV debut in goal and promptly initiated the 1:0 with his first contact with the ball. With a combination of low passes via Johansson, Heyer, Rohr, Alidou and Meißner, HSV played their way across the entire field in a 4-4-2 system before Manuel Wintzheimer finally pushed the ball over the line after exactly 27 seconds. First Meißner (15th) and later Kittel (25th) scored further goals worth mentioning in a friendly that was played with commitment by both sides. The Dutch side, who initially equalised the score at 1-1 through Mo El Hankouri's penalty kick (26th), were increasingly conspicuous for their borderline harshness, so that referee Konrad Oldhafer tried to calm the game down after half an hour by talking to the two team captains. In this situation, the ball-dominant and forward combining Rothosen kept a cool head, appeared offensively with a Kittel free kick (40th) again dangerous and held defensively by a Johansson save (44th).
Red Shorts with a hot heart and a cool head
In the second half, Walter brought in David, Kilo and Großer to replace Schonlau, Alidou and Meffert, keeping the wind of change blowing and the tempo of the HSV game high. Immediately after the break, the Hamburg team converted their greater share of the game into further goals. Wintzheimer took a penalty kick against Dammers, which Kittel, who was wearing the captain's armband at this stage, slotted home to make it 2-1 (54). A few minutes later, after a back pass to Groningen keeper Hoekstra, who took it in his hands in the heat of the moment, the Red Shorts had the next top-class chance from an indirect free kick in the six-yard box, but Kinsombi and David failed to take advantage of this curious scenario. Meißner also missed a chance to make it 3:1 around the hour mark. In the 62nd minute Walter changed again, this time with Leibold, Velasko, Jatta, Gyamerah and Glatzel. The latter two then provided the deserved third to make it a 3:1 final score in a remarkable co-production, when Gyamerah sent striker Glatzel on his way with a chip ball behind the defensive line and he scored from close range (74th).
"I was absolutely satisfied with my team's performance," said coach Tim Walter, full of praise. "We wanted to show from the start that we really wanted to win the game today. The boys did that brilliantly. The boys who want to show themselves took their chance today. That's nice and doesn't make it easier for me as a coach."
---
How HSV played:
HSV: Johansson – Heyer (62. Leibold), Rohr, Schonlau (46. David), Muheim – Alidou (46. Kilo), Meffert (46. Großer), Kittel (62. Gyamerah), Kinsombi (62. Velasko) – Meißner (62. Glatzel), Wintzheimer (62. Jatta)
Goals: 1:0 Wintzheimer (1.), 1:1 El Hankouri (26. FE), 2:1 Kittel (54. FE), 3:1 Glatzel (75.)
Referee: Konrad Oldhafer (Hamburg)