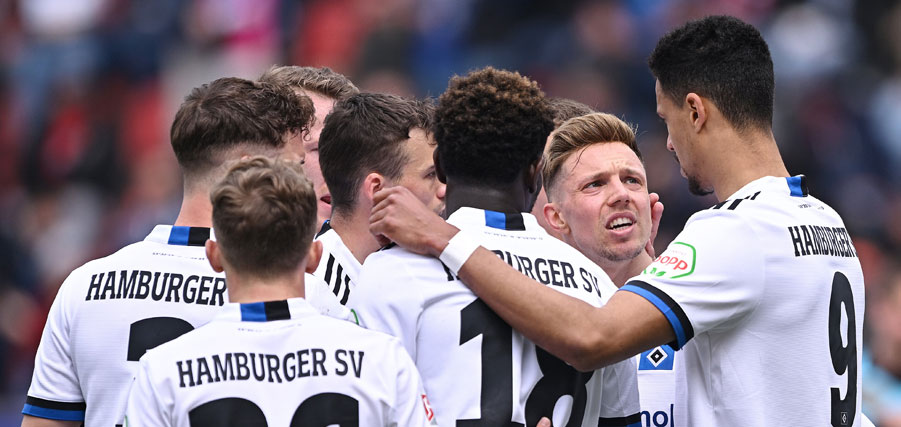 4:0 - HSV wins at FC Ingolstadt
HSV won clearly and deservedly 4:0 at FC Ingolstadt. The goals were scored by Kittel, Schonlau, Glatzel and Kaufmann.
Hamburger SV won their match of the 32nd matchday on Saturday (30 April) with 3:0 (2:0) at FC Ingolstadt. Sonny Kittel and Sebastian Schonlau scored twice in the 27th and 29th minutes to give the team a 2-0 half-time lead. After the break, HSV remained the dominant team and added to their tally. Robert Glatzel made it 3-0 in the 57th minute before Mikkel Kaufmann scored his first HSV goal in the final phase to make it 4-0 (81st) and round off a perfect HSV Sunday.
HSV with brains...
HSV coach Tim Walter had his team play in the familiar and proven 4-3-3 system away at FC Ingolstadt, who had already been relegated. The team felt comfortable in this system and took control right from the start. After the first 45 minutes, 70 percent possession, 6:0 corners and 12.4 shots on goal were on the stat sheet. And the most important thing: The scoreboard showed 2:0 in favour of Hamburg, who played with their heads - in both senses of the word. Kittel & Co. played with pressure and patience at the same time, and then they took advantage of the hosts to strike from the air. First it was Kittel himself, then Schonlau two minutes later - and so the Walter team led 2-0 after just under half an hour through two headed goals. A deserved half-time lead, even if the Ingolstadt team never gave up and also scored a few goals.
... and with a deserved away win
The second half showed an identical picture: Ingostadt did not give up, but HSV did not let the Schanzers get back into the game and instead added to their tally. Less than a quarter of an hour had elapsed after the change of ends when Glatzel followed up Kittel's cross with a header to make it 3-0. This decided the game and coach Walter gave some of his key players early substitutions to save energy for the last two games of the season. But the eleven Rothosen who were on the pitch not only kept going, they even increased the pressure again with the fresh forces: Vagnoman scored what was supposed to be the 4th goal of the season: 0, which was ultimately disallowed due to a very close offside position, but HSV continued to play in a fast-paced and variable manner - and scored their fourth goal: Kaufmann was rewarded for his tireless efforts with his first HSV compulsory goal and thus put the icing on the cake of a deserved HSV away victory.
---
Match Summary
FC Ingolstadt: Stojanovic - Heinloth, Antonitsch, Stevanovic, Franke - Preißinger (87. Kotzke), Musliu (46. Keller), Gaus (74. Poulsen), Schmidt (74. Sulejmani), Pick (87. Llugiqi) - Kutschke
Hamburger SV: Heuer Fernandes - Heyer, Vuskovic, Schonlau, Muheim - Meffert (77. David), Reis (82. Alidou), Suhonen (66. Wintzheimer) - Jatta (46. Vagnoman), Glatzel (66. Kaufmann), Kittel
Goals: 0:1 Kittel (27.), 0:2 Schonlau (29.), 0:3 Glatzel (57.), 0:4 Kaufmann (81.)
Attendance: 8.081
Referee: Dr. Robert Kampka (Mainz)
Yellow Cards: Pick (68.) / Schonlau (21.), Muheim (85.)
Yellow - Red Cards: - / -
Rote Karten: - / -