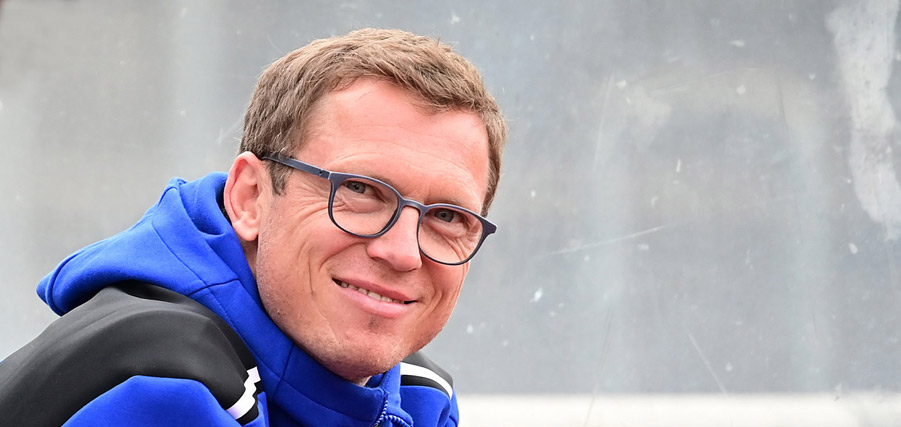 Post match report
02.08.21
"A lot of positive things remain"
Despite a strong first half, HSV had to settle for a point against Dynamo Dresden. The sporting director nevertheless saw many good approaches in the performance.
Michael Mutzel is still torn one day after the home opener against Dynamo Dresden. On the one hand, it was a very intense game. Especially because of the spectators, who were allowed into the Volksparkstadion in large numbers again for the first time. "It was emotional for everyone that there were 17,000 people in the stadium again. It felt very good," said the sporting director with a smile on his face on Monday morning (2 August). On the other hand, however, in the end only a 1-1 draw against the promoted team was on the score sheet. That being after a very strong half in which there were numerous great chances, but in which the Red Shorts failed to put the lid on it early on. The possible three points were within reach. But the disappointment only applies when looking at the result. The sporting director can take a lot of positives from the performance.
Michael Mutzel on ...
... about the classification of the result: Of course we are disappointed when you look at the bare result. The way we played, especially in the first half, but also in parts of the second half, gives you confidence. What I personally found totally positive was that we wanted to win the game at all costs. The boys tried everything to score a second goal. You could feel that - and the spectators felt it too. There are a lot of positive things to remember.
... the further analysis: If you go into the analysis, you see that we had many moments in which we could have decided the game, in which we were four against four or three against three, but then often making the wrong decision, especially in the second half. In the first half we didn't create the big chances and in the second half we didn't create enough chances.
... the current style of play: We cannot forget that the new coaching team has only been here for six or seven weeks. We also have a lot of new players. It's presumptuous to expect everything to work after that time. The important thing is that Tim Walter's idea works and that you can see that the players accept it and that we create a lot of chances.
... the use of chances: There were already a few moments where you could say that if you played them with the last bit of consistency and the very last bit of heart, then they could have gone in. The coach has already said that perhaps the last bit of greed was missing. Maybe we noticed that we were too easy to create goal chances. Then we forget to make use of the few we have. That's something we have to reproach ourselves for and do better.