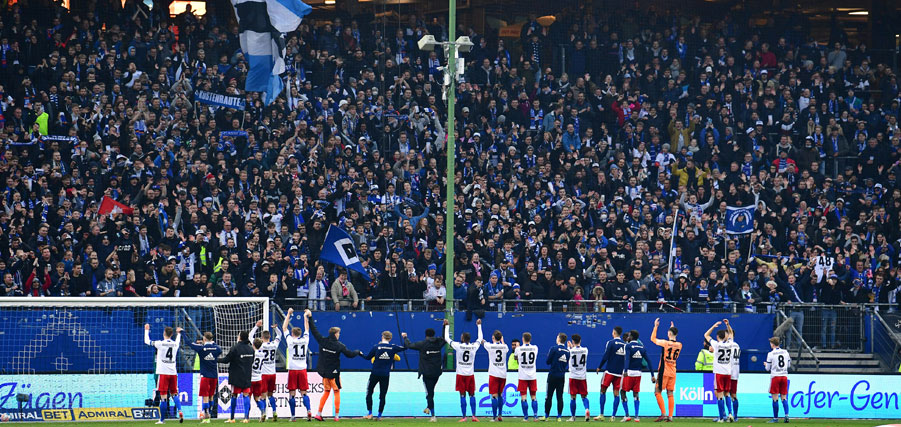 Voice's from the Game
20.11.21
"A lot went right today"
Almost everything came together in the home win againts Regensburg. In the End, there was a commanding 4-1 victory. Which made the HSV faithful very happy- They were finally rewarded for a strong performance!
HSV were rewarded for a very good performance against SSV Jahn Regensburg with their second home win (4:1) of the season. In contrast to some of their other performances at the Volksparkstadion, the Rothosen converted their superiority and their great chances into goals this time. They also had the right answer to Jan-Niklas Beste's prompt 1:1 equaliser. It was a successful performance all round, with Sonny Kittel (28) standing out with two assists, a penalty kick and the penalty goal. He passed on the praise to his young team-mates in particular. The comments on the game.
Sonny Kittel: "We've played a lot of good games in the past weeks and months, but today we finally got our reward, scored the goals and deserved to win. The fact that we managed to do that in such an impressive way today with so many very young players makes me proud and I'm especially happy for our boys. We want to build on that and are already looking forward to next week, because then it's another home game and we want to give everything again to give ourselves and the fans so much fun.
Robert Glatzel: "A lot of things went right for us today. Even after conceding a goal, we didn't let our heads drop, kept playing forward as a matter of course and absolutely deserved to win. You could feel our belief in this phase, I think. And then we were even more composed in front of goal today than we had been recently, even though I wasn't able to take advantage of two good opportunities. In this respect, the victory could have been even higher, but all in all, it was a very good performance by the whole team today.
"Das war für uns heute ein perfekter Tag"Ludovit Reis
Ludovit Reis: I think it was a very good game for the whole team today. We could have won even more with the many chances we created throughout the game, which was very good. The fact that I was also able to score a goal is of course all the more pleasing for me, especially as I've been practising these situations a lot with our coaching team recently. It's nice when it works out like that! Add to that the outstanding atmosphere in the stadium, which was created by the fans - it was simply a perfect day for us today.
Tim Walter: Wir haben heute von Anfang an gezeigt, dass wir dieses Spiel unbedingt gewinnen wollen und hatten wieder eine großartige Bereitschaft. Wir waren sehr konsequent und hatten auch kein Problem mit dem Ausgleich, denn die Mannschaft war total drin und hat auch diesen Rückschlag ganz schnell weggesteckt. In der zweiten Halbzeit sind wir weiter zielstrebig geblieben, haben uns dieses Mal auch mit den Toren belohnt und damit am Ende gegen einen Gegner, der mitspielen wollte, verdient gewonnen. Es war eine absolut geschlossene Mannschaftsleistung, in der jeder einzelne Spieler seine Leistung gebracht hat. Wenn überhaupt, dann kann man Sonny Kittel ein wenig herausheben kann, denn er hat heute spielerisch geglänzt, seine Mitspieler hervorragend eingesetzt und wieder einmal gezeigt, wie sehr er gereift ist und wie wichtig er in dieser Rolle für die Mannschaft ist.
Mersad Selimbegovic: Der HSV war heute einfach ganz, ganz stark, das muss man anerkennen. Die Hamburger haben sehr variabel und vor allem immer wieder extrem schnell und druckvoll nach vorn gespielt. Insofern ist der Sieg absolut verdient. Dennoch muss ich bemängeln, dass wir uns bei den ersten beiden Gegentoren naiv angestellt haben und unsere Offensivaktionen, die wir durchaus hatten, nicht gut ausgespielt haben. Dennoch: Dieser HSV-Sieg geht absolut in Ordnung, daran gibt es keinen Zweifel.